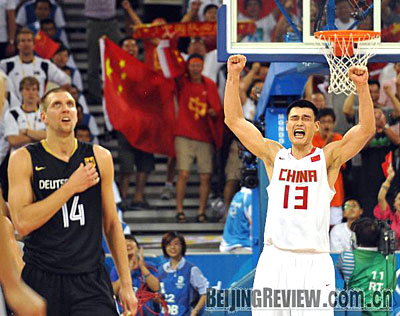 Yao Ming (R) celebrates the team's victory
China managed to beat Germany 59-55 in a Group B matchup to book a berth in the quarterfinals of the men's basketball competitions for the second time in row at the Beijing Olympic Games on Friday.
Houston Rockets center Yao Ming scored 25 points and grabbed 11 rebounds while Yi had nine points and 11 rebounds to give China the most wanted win so far in the tournament.
Dirk Nowitzki had a great game of 24 points and 17 rebounds, but he missed a potential tying 3-pointer 18.8 seconds to go and lost the ball on the following possession to give up the final chance for Germany.
"Great game comes under great pressure. We know it's an important game. The loss to Spain told us we could beat any teams if we play together and trust each other. We know we had great improvement," Yao said.
China came out of a 85-75 overtime loss to Spain to beat Angola 85-68 on Wednesday. Friday's victory put China onto the fourth placings in the group behind the United States, Spain and Greece.
China will meet Greece in the final match of the group on Monday and Germany will face the U.S.. China secure at least the fourth placings no matter what results come out of the final round.
"China played a better defence, which was the key to their victory tonight. We had a great second quarter, but for the whole match China gave us lots of pressure on the ball," German coach Dirk Bauermann said.
Bauermann gave thanks to all the volunteers, drivers, and work staff of the Olympics at the post-game press conference as he knew Germany had no chance to advance.
China started strong to lead 19-9 after the first quarter when they played the solid defence to suffocate Germany to shoot 3-out-of-17 in the field.
Germany picked up their defence to hold China to eight points to usurp the lead by 31-27 in the first half.
China answered with a 20-8 third quarter to regain a 10-point lead before Pascal Roller, who had 13 points, scored on the last basket in this quarter to make it 47-39 for China.
Four days ago China gave up a 14-point third-quarter lead to lose to world champions Spain. Friday's match was a repeat of the thrilling loss and this time China proved they were learning.
A 14-2 run in five minutes almost turned the table around for Germany but China finally found their offensive power to clinch the win.
"It's a hard game. We tried many things to change the tide down the stretch but didn't succeed. Fortunately we won the game at last," China's head coach Jonas Kazlauskas said.
(Xinhua News Agency August 16, 2008)