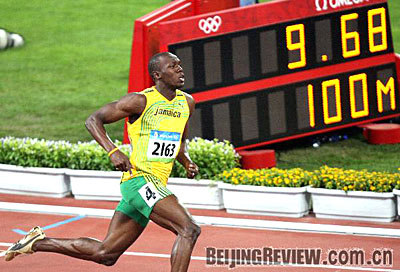 World record holder Usain Bolt of Jamaica dashed to his first Olympic gold in the men's 100m final and set a new world record of 9.69 seconds at the Bird's Nest on Saturday.
Richard Thompson of Trinidad and Tobago got the silver in 9.89 seconds and Walter Dix of the U.S. finished the third in 9.91 seconds.
Bolt didn't even use all his strength in his final strides, while easing up and bouncing his chest with right palm before reaching the finish line. The previous world record was 9.72 seconds he set earlier this year.
Ecstatic Bolt, wearing the Jamaican national flag, repeatedly kissed his golden shoes, bathing in the hails of 91,000 spectators in the National Stadium.
Bolt posed for pictures beside the electronic bulletin which showed his new world record.
Powell, a favorite sprinter also from Jamaica, said, "Usain is the greatest of the best, definitely untouchable."
"He could run much a lot faster," said Powell, who finished the fifth in the finals in 9.95 seconds.
Bronze medallist Dix said, "I couldn't be more satisfied and I was proud of my performance here."
Meeting the world record holder for the first time in major events, Dix said, "He did a really good job."
(Xinhua News Agency August 16, 2008)