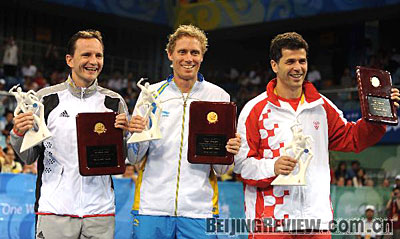 (L-R) Jean-Michel Saive of Belgium, Jorgen Persson of Sweden, and Zoran Primorac of Croatia receive the awards
World table tennis governing body ITTF on Monday awarded prizes to three veterans for playing at their sixth Olympics since the sport was introduced at the 1988 Seoul Olympic Games.
Jorgen Persson of Sweden, Zoran Primorac of Croatia and Jean-Michel Saive of Belgium, who have failed to win an Olympic gold medal so far, stood on the Olympic podium at the Peking University Gymnasium, receiving the awards from the ITTF president Adham Sharara.
"It is a great thing to be top of the world for 23 years--that is almost a third of a lifetime," Primorac said.
"All three players did a great thing for six Olympics and it was nice of someone to recognise us and give us the award. In Olympics, the most important thing is winning the (gold) medal, but I have not won it yet," the 39-year-old added.
"It is a great honour to be here for a sixth time," said Saive. "It is a great feeling that ITTF did not forget the athletes."
Primorac won a doubles silver in Seoul. Both Primorac and Saive, 38, failed to reach the last 16 at the Athens men's singles.
"It is very special as I had many memories in China. I have fought for a long time and it is nice of the ITTF to give this award. Not everyone gets the award, so it feels nice," former world champion Persson said.
Persson, 42, finished the ninth at the Athens men's singles and fourth at the Sydney singles. His doubles partner, all-time great Jan-Ove Waldner, retired at 40 in 2006.
At the award ceremony, Yang Shu'an, executive vice-president of the Beijing Olympics organizing committee, presented Sharara with an Olympic torch, which will be kept in an ITTF museum in Lausanne, Switzerland.
(Xinhua News Agency August 18, 2008)