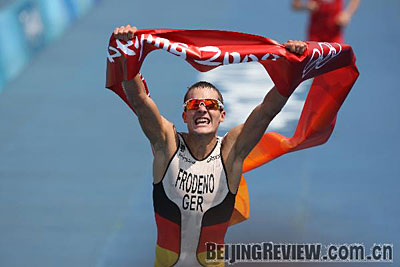 Jan Frodeno celebrates crossing the finish line first
Jan Frodeno of Germany won the men's triathlon gold at the Beijing Olympic Games on Tuesday.
Frodeno staged a last-gasp sprint to cross the finish line in 1 hour, 48 minutes, 53 seconds.
Simon Whitfield of Canada, the gold medallist at the 2000 Sydney Olympic Games, took the silver with 5 seconds behind Frodeno. Bevan Docherty of New Zealand, who won the silver medal at the 2004 Athens Olympic Games, came the third.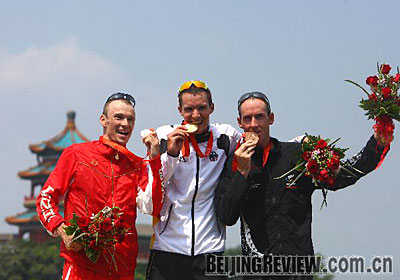 (L-R) Silver medallist Simon Whitfield of Canada, gold medallist Jan Frodeno, and bronze medallist Bevan Docherty of New Zealand at the award ceremony
(Xinhua News Agency August 19, 2008)