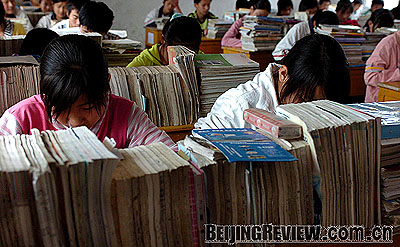 STUDY BURDEN: Students in grade three of a junior middle school in central China's Anhui Province study hard with piles of books on their desks
Sleep is a serious business for China's education authorities, which have been on a quest to ensure the nation's students get enough of it.
In their latest measure, in early September 2008, the Ministry of Education dictated the optimum level of sleep for primary, junior middle school and senior middle school students at 10, nine and eight hours respectively.
In order to ensure students find time to sleep, the ministry also regulates the amount of homework students are given. According to the ministry, teachers should give no homework to students in grade one and two of primary school, and in higher grades they should spend no more than 60 minutes on it every day. For students in junior middle school the limit is 90 minutes. The ministry also dictates that teachers are not allowed to occupy students' spare time, including weekends and vacations, with extra classes.
As early as in 1994, the National Educational Committee (the predecessor of the Ministry of Education) issued a document to guarantee sleep for students. It stated that primary students should enjoy more than nine hours of sleep, junior middle school students nine hours and senior middle school students eight hours.
On June 1, 2007, the revised Law On the Protection of Minors stated that schools and parents must ensure that primary and secondary school students get enough sleep. Since then, the Chinese education authorities and a number of local government authorities have repeatedly stressed the importance of sleep for students.
Homework burden
Staying up to write homework is common for primary and secondary school students in China. In November 2007, the Education Bureau of Guangzhou City, in south China's Guangdong Province, conducted a survey on the burden of homework and the sleeping patterns of students in the city. The results showed that only 6 percent of students in grade three of high school enjoyed eight sleep hours and 29 percent of students slept less than six hours a day.
In early September 2008, website sina.com conducted a survey on the same topic. Among 2,371 students who took part in this survey, more than 40 percent said they slept between six and seven hours a night, 20 percent less than six hours, and 40 percent students between eight and 10 hours.
Comparisons of the average sleeping time of the U.S. and Chinese students showed that Chinese students sleep half an hour later than American students and get up half an hour earlier. Chinese students also demonstrate more sleep problems such as having difficulties in falling in sleep and shallow sleep.
A survey conducted by China Youth & Children Research Center in the middle of February 2005 covered 2,498 students in six large cities including Beijing, Shanghai, Guangzhou, Changchun in north China's Jilin Province, Lanzhou in west China's Gansu Province and Chengdu in southwest China's Sichuan Province. Two thirds of primary students and three fourths of middle school students showed sleeping deficiencies and 52.7 percent revealed that the first thing they want to do in their spare time is sleep.
The survey also showed that nearly 65 percent of students don't wake up naturally but were woken by alarm clocks, and 35 percent of primary students and 59 secondary school students said they always felt tired.
According to Zhang Qingbin, Director of the Psychological Counseling and Therapy Center of Shijiazhuang City, capital of north China's Hebei Province, there are many reasons for sleep deficiency, mostly connected to the pressure to succeed. Besides homework many students also receive extra assignments from their parents, eager to see their children do well in school.
According to Zhang Jinsong, a professor at Shanghai Xinhua Hospital, children of school age are at a crucial period to form and establish sleeping habits. A deficiency of sleep could lead to sub-clinical conditions and cause a variety of psychological and physical problems, which might hamper the natural development of recognition functions.
Shen Xiaoming, Director of the Shanghai Municipal Education Commission, said that children with sleep deficiency and other sleep problems are likely to find it difficult to adapt to school and are at risk of developing dangerous adolescent behavior such as depression, suicide, smoking and drug abuse.