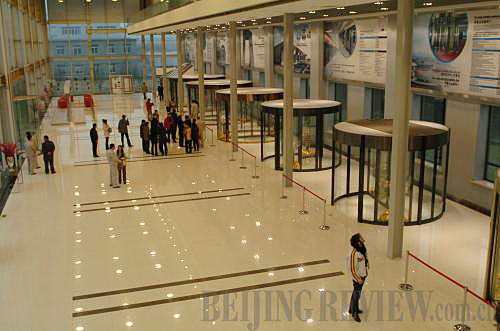 GREAT EXPANSION: Since Liaoning Sunway Mechanical & Electrical Technology Co. Ltd. moved to Anshan, its production capacity has increased 10 times (WANG YU)
Like many other steel companies in China, the steel group named after the Anshan city became better known than the city itself. For years, China's largest steel manufacturer—the century-old Anshan Iron and Steel Group Corp. (Ansteel)—has outshined the city in which it is located. In 2004, Ansteel accounted for 62 percent of Anshan's industrial output. As the local saying goes, Ansteel sneezes and Anshan catches a cold.
Eventually, though, Anshan felt an urgency to diversify its economic structure beyond the steel industry. After years of effort, its hope for a more powerful and less vulnerable economic structure has finally been realized. In the first three quarters of 2010, Anshan's GDP achieved a growth rate of 16.7 percent, 6.1 percentage points above the national average, with its service industry accounting for 45 percent of the city's GDP and Ansteel contributing 21 percent.
Anshan has attempted to develop its service industry and its steel intensive processing industry, said Gu Chunli, Vice Secretary of the CPC Anshan Municipal Committee.
"Anshan's rapid development has also changed the labor market in recent years," Gu said. "People used to hunt jobs, but now jobs hunt people."
New frontiers
In 2006, the Anshan Municipal Government decided to build an industrial park at Dadaowan, a small town in the western part of the city, neighboring Ansteel.
Drawing on the advantage of being close to the steel giant, the Dadaowan Economic and Technological Development Zone focuses on the chemical engineering and new materials industries, as well as steel intensive processing, in which raw steel is refined or utilized in finished products.
Liaoning Sunway Mechanical & Electrical Technology Co. Ltd. was the first enterprise established in the zone. In 2006, the company decided to move from south China's Guangdong Province to Anshan. "Our products are mainly metal revolving doors and our major market is the northern part of China," said Jiao Xichen, deputy general manager of the company.
The move to Anshan provided an opportunity to cut the cost of logistics and to improve competitiveness, said Jiao. The company realized a sales volume of 500 million yuan ($75.5 million) in 2009 and scored a market share of 40 percent in China. It is more convenient and efficient to use metal products from Ansteel, said Jiao.
So far, more than 700 enterprises engaged in steel intensive processing have settled in the zone, with the total investment reaching 90 billion yuan ($13.6 billion).
Actually, the Dadaowan Economic and Technological Development Zone is only a part of Anshan's blueprint for building Dadaowan into a new city.
According to the plan, the new city will cover 150 square km, be home to 500,000 people and feature a comprehensive public service system, including department stores, banks, public transport, schools and hospitals, said Gu. The infrastructure construction should be completed in three years.
Ample labor resources
For entrepreneurs in Dadaowan, the cost of labor—cheaper than that in southeast coastal China—did not factor heavily into the decision to move to Anshan. What gave them confidence was a sufficient supply of skilled workers.
Near the Dadaowan Economic and Technological Development Zone lies the Anshan Vocational Training Center, a school with a 100,000-person capacity.
This training center provides a flow of trained workers for the enterprises, said Zhang Baofeng, General Manager of Dadaowan Construction Investment Co. Ltd.
"While the factories are under construction, we train workers to meet their demands," Zhang said. "This way, the enterprises have a labor force ready as soon as the production line is launched."
Free vocational training is also provided for local farmers, and the children of farmers, who gave up their land to the development zone. In addition, these children are entitled to a 2,000 yuan ($302) subsidy per year.
Currently, there are 20,000 students learning in the vocational center, but that number will increase to 100,000 within three years, said Zhang.