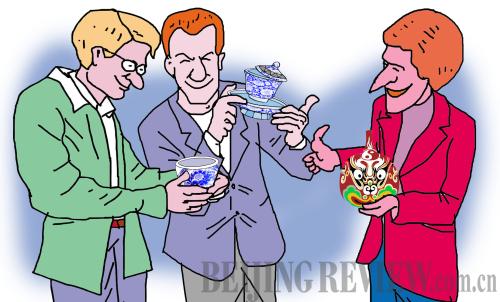 (LI SHIGONG)
The term "chinoiserie" exemplifies the fascination of China for the West. From the 1700s to the present time, exotic, stylish, whimsical and sometimes playful Chinese imports have piqued Western imaginations. The word chinoiserie can be used to describe a European fantasy-vision of all things Chinese. This term first appeared in dictionaries in 1883, when it connoted Chinese conduct or a 'notion' of China.
Chinese commodities have traveled the globe for many centuries. Since ancient times, small quantities of silk, rice, tea and other precious Eastern commodities allowed Central Asian access via the ancient Silk Road. For Europeans, in 1498, Vasco de Gama discovered a sea route from the West coast of India through the Cape of Good Hope, thus securing a sea route between Europe and Asia. By the early 17th century, foreign trading companies were venturing to China. The Dutch and English East India Companies started importing Chinese luxury goods, notably silk, porcelain and tea, to Europe. They eventually imported other various artistic items as well: paintings and watercolors, hand painted silk wallpapers, exquisite silk curtains, traditional Chinese furniture, various kinds of textiles, hand forged silver objects and even delicate bamboo blinds. Significantly, Chinese design concepts for both landscaping and home furnishing soon became the rage in the mid-17th century around Europe. This craze for chinoiserie immigrated quickly to the New World as well.
At that time, in addition to importing valuable Chinese goods, many European artists traveled to China to experience Chinese beauty firsthand. These Europeans painted flora and fauna landscapes depicting tranquil Eastern way of life. Along with their artistic interpretations came more types of European imitations regarding Chinese wares—notably in the frustrated European desire to manufacture their own porcelain.
For most Europeans, chinoiserie was expressed in two primary ways. First and foremost was the advent of tea drinking, as tea was the largest and most coveted early import from China. In tandem with tea drinking came the demand for fine porcelain wares to use to consume tea and other drinks and foodstuffs. Polite European society demanded fine ceramics; some imported Chinese porcelains, others bought English and European imitations that mimicked Chinese motifs. European silversmiths also forged exquisite tea caddies, pots and epergnes, imitating Chinese style.
Moreover, from the mid-17th century through the 19th centuries, European royalty and aristocrats had their architects and landscapers imitate and create Chinese interiors and gardens. Many homes employed collections of Far Eastern artifacts purchased from the East India Trading Company.
By the mid 18th century, some intellectuals perceived chinoiserie as a reaction against the strict rules of European classicism. A few critics labeled the style as hedonistic. But for European designers who adapted it, chinoiserie symbolized a light, feminine touch. They employed Chinese designs and goods to decorate rich women's bedrooms, dressing rooms and drawing rooms. Expensive, hand-painted Chinese wallpaper, along with delicate porcelain vases, and specially designed Chinese fret-back chairs (designed by Chippendale) were in great demand throughout Europe. In addition, many European women adored Chinese lacquer ware and lacquered surfaces.
Around Europe, some of the most famous interiors decorated in Chinese style include: Drottningholm, Sans Souci, Schloss Wörlitz, Charlottenburg, and Oranienbaum. In England, the Royal Pavilion, commissioned by the Prince Regent (1810-20) and the future George IV (1820-30), is an outstanding example of imaginative, late chinoiserie style.
Larger Chinese designs were also incorporated into the European lifestyle. Eastern pavilions, with distinct upswept roofs, special forged bells and dragon motifs, decorated English and French gardens owned by the rich. In London, pleasure gardens—Vauxhall and Ranelagh, along with the famous Kew Gardens housing its dramatic pagoda—delighted the English public.
China mania reached its apex in the 1750s, with more than two dozen trading ships traveling between London and Canton (today's Guangzhou in south China) between 1747 and 1764. By the end of the 1700s, however, chinoiserie was in decline until it was revived by George, Prince of Wales. He ordered the Royal Pavilion at Brighton to be built. This defining theme of both the interiors and exteriors of this structure incorporated Chinese design, making it representative of both the best of Chinese opulence and imperial extravagance, as opposed to earlier, more whimsical chinoiserie.
Chinoiserie flourished again in the 1920s in Europe and the United States, as Chinese rooms—with startling black and scarlet lacquered interiors, huge mirrors, and dramatic Chinese patterns embellished the rooms of the rich. Chinese coats and Chinese hairstyles influenced American Flapper fashions.
Today, expensive Chinese antiques and contemporary art are in great demand. As for me, buying just a small, delicate piece of porcelain always makes an ideal gift for friends and family back home in the United States. Although styles may change in China and the West, there is no doubt in my mind that the craze and the fascination for Chinese goods will continue among Western people.
The writer is an American living in China