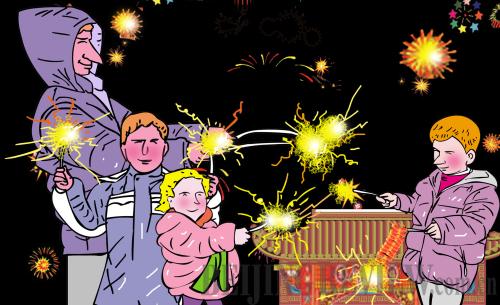 (LI SHIGONG)
I first arrived in China in 1990 and instantly fell in love with the country. It was not as dynamic in the early 1990s as it is today. But I likened the country, its people and people's enthusiasm to the awakening of a young and curious child. The innocence and inquisitiveness of China have made it a wonderful place to build a career.
I was reminded of this as I prepared, with my sons, for the Chinese Lunar New Year firecracker extravaganza every family in China enjoys. In the eyes of my boys, I saw the same enthusiastic naivety I saw in China of the early 1990s and it brought a smile to my face.
Beijing was not always as vibrant as it is today. In the early 1990s mainly serious diplomats or ageing business people were sent from home offices to set up representative offices in China. There were only a couple of tame bars in the city. The most luxurious one was probably Franks' Place, but a serious evening could still be had at House Disco next to what was called the Peace Hotel on Goldfish Hutong near Wangfujing Street, where the owner used to park his red Porsche or Ferrari (time has faded this memory of the brand).
In the absence of "clubbing," you entertained yourself in a variety of far more interesting ways and in ways time has neatly woven into stories I tell my boys before they go to bed. The essence of the early stages of China's dramatic opening up were experiences few people will ever have the opportunity to share. As I prepared for the firecrackers, I thought I would share a few stories with the boys.
In those days the drivers did not turn on their cars' headlights because they thought this wasted the batteries, and at intersections they would flick their lights as they approached. Driving from Beijing to Tianjin, the driver would accelerate until he hit 80 km per hour, then take the car out of gear. Until he hit 30 km/h he would engage the gears again and start the process over. This is how they were taught to use petrol efficiently. Can you imagine how bad the Beijing traffic would be today if these beliefs were still in place?
How accommodating is a country where the youth takes English names so it is easier for foreigners to pronounce and recognize them.
I will never forget a meeting we had with a boss of a large U.S. company in Beijing. We were presenting a business plan with all the abundant ambiguity data-scarce China had at that time. The U.S. boss asked us to validate our confidence in the plan. Without missing a beat my boss said, "Because its' God's plan." Being astonished, the big boss, with face reddening, turned and glared at my boss. Before the Vesuvian eruption took place, my boss then said, "Let me introduce you to God," and up stood one of our proud graduate trainees from Peking University, beaming from ear to ear at having the pleasure of being introduced to the big guy, but naive enough not to understand the significance of the English conversation. The big boss did a double take, and as his face color returned to normal we all breathed a sigh of relief. The big boss smiled and approved the plan, probably not so much for the audacity of the comment but the boundless and enterprising enthusiasm of "God" who was still beaming—naivety went both ways.
China has changed in many ways, and Beijing certainly has. But the essence of a country as intriguing and naive as it is experienced is a cultural gem that will shimmer always.
The writer is an Australian living in China