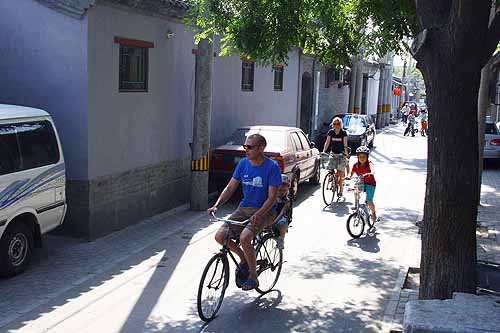 LIFE IN BEIJING: A foreign family living in Beijing ride bicycles through a hutong (XINHUA) 
Since uprooting myself from a sentimental hutong inside the Second Ring Road to the outlying outer east Fifth Ring Road about a month ago, I am still in the process of acquainting myself with the new surroundings. To the locals, life has gone on unchanged. But for a foreigner, everything seems to be refreshingly new.
The first striking difference between my new neighborhood, Guan Zhuang, and my previous abode is the ubiquitous "black taxis" (unlicensed taxis) that position themselves strategically at every corner in this neighborhood.
I observed with interest that the unlicensed taxi drivers seem to have their own territories and there is an unwritten rule amongst them that no one is allowed to encroach into another's waiting area. The seasoned "black taxi" drivers are very confident in their own "quoted price" and are not likely to budge. They also have no qualms if a potential passenger turns down their offer for another option. To this end, I can only guess the drivers fully understand the meaning of the law of supply and demand, and they do make a decent income at the end of each month.
In the evening, the improvised three red light-emitting diodes (LED) hanging from the unlicensed taxi's rear view mirror stand out like a shining beacon, signaling that the car is available for hire. Seeing the little "red LED" cars moving around in the roundabout junction from my birds-eye view apartment does have the therapeutic effect of relieving my tired eyes after using the computer for too long.
It is not an exaggeration to say that there are more than a hundred "black taxis" in my new neighborhood and there is enough business going around. Coincidentally, or maybe not, licensed taxis plying the road over here were conspicuously fewer than the ones inside the Second Ring Road.
The locals exchange pleasantries with the unlicensed taxi drivers as if they are old friends. One day I saw four policemen on patrol walking purposefully on the footpath made narrower by two stationary "black taxis." The men in blue deliberately made no eye contact with the two unlicensed taxi drivers as they passed. Apparently the "black taxis" are already part of the community and co-exist harmoniously with the local residents and officials alike.
Taking a short walk from my lodging to the nearby supermarket is like venturing into a minefield—you have to tread carefully so as not to step into the phlegm, which is everywhere in the footpath. After so many years in China, it seems spitting is still pervasive in the capital and I really hope the authorities will fully address the issue, if for no other reason than pure hygienic purposes.
If you are looking for a house to rent over here, you can do away with the service of real estate agents or surfing on the Internet. Simply take a walk around the neighborhood and you can see advertisements of all shapes and sizes pasted innovatively on lampposts, bus stop signs, dilapidated public phone booths, overhead pedestrian bridges, and even on the footpath itself. I really feel sorry for the cleaners over here, who every other day have to scrape away the illegal notices, in addition to their main task of sweeping the street. Occasionally, you will see a guy with powerful water hose in hand, trying to remove the illegal notices. I wondered, "How much water is being wasted and what is the long-term solution to the perennial problem?"
The handful of banks over here—Beijing Rural Commercial Bank, China Construction Bank, Agricultural Bank of China, and Industrial and Commercial Bank of China— aren't enough since there's the ever present problem of long queues forming at the entrance of each respective bank as early as 8:00 in the morning, one hour before the bank opens for business. It is not unheard of that you have to wait as long as two hours before being served.
Amidst the busy environment there is a plethora of restaurants to whet your appetite including iconic McDonald's, local favorite Chinese franchised hotpot restaurant Xiabu Xiabu, 49-yuan ($7.5) buffet at the popular Origus, economical fast food Yoshinoya, the established Chinese cuisine restaurant Jin Bai Wan and many others.
On a clear blue sky from my 12th-floor apartment, you can see airplanes flying at what seems like eye level as they head toward Beijing Capital International Airport. The emblems of China Southern Airline, Air China or British Airways can prominently be seen from my apartment. When looking at the airplanes flying past me, it reminds me that I am a guest in this beloved and colossal country.
The author is a Singaporean living in Beijing