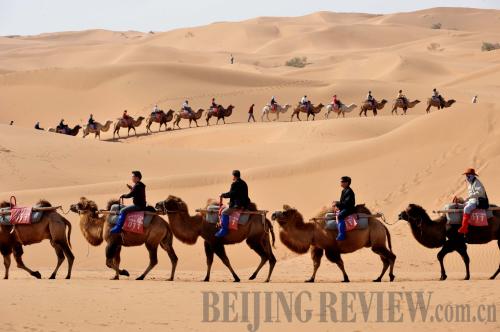 DESERT VIEW: Tourists ride camels in the desert in the Shapotou scenic area in northwest China's Ningxia Hui Autonomous Region (CFP)
As I get my first glimpse of a Gobi Desert camel, I recall reading about an Abu Dhabi TV show, Poet of the Millions, which is watched by 70 million people. Poets recite verses and the audience votes by texting. "Camels" is one of the topics. It is now my turn to get on a camel.
Before me, a camel kneels down. A driver guides my foot into a stirrup. A colorful pink tapestry beneath my saddle is proof I am on the Silk Road near Urumqi, capital of China's Xinjiang Uygur Autonomous Region.
"I can't believe I am doing this," says a classics professor. "My family won't believe it. Take a picture, would you?"
Our driver, Mr. Zhao, a sun-burned Chinese in his 20s, grabs several cameras, and clicks away.
I pantomime, "Is it OK to pet him?"
"You may," says Mr. Zhao in Mandarin and then switches to his own Uygur language to command the camel to get up.
I brace myself. As my camel arches upward I hold on to the steel bar, as the driver directs. We are walking. It's so comfortable. Camels walk slowly or kind of roll slowly. Elephants and camels both walk with their left legs together and then their right legs.
"It is so much fun!" I shout. I'm on the lead camel. Zhao beams.
As a domestic pet lover, I am enthralled by the camel's hair which is dark brown, fuzzy and soft. Here I am, surrounded by fine Gobi sand yet my camel is clean. I expected our camels to be dusty but there is not a drop of grit on my fingers. My camel is like a well-groomed teddy bear.
Our camels are rare Bactrian camels with two humps and the small leather saddle is located between them. There are only about 800 Bactrian camels left in the wild. I hope they make the endangered species list.
My camel's front hump is tipped to one side. To be judged valuable the hump must be high, well-placed and upright by Arab standards. Since my camel's front hump is tilted to the right side, I suppose he would not win a show. The edge of his lips are darker hair so the effect is to outline a definite smile. Yes, my camel is smiling.
"You're so good," I say to him.
Now I glance around me. Fifty camels with tourists are in view. Some are taking the flat desert route. Zhao is leading our train up the steep dune ahead. I memorize the scene so I can paint when my ride is a day dream.
I discover camel riding is leisurely. We lean forward and fall backward in what becomes for me a desert dance. No wonder they call them "ships of the desert." It is as if I were sailing in a boat on a calm sea.
My new Chinese sun hat shades me. The journey enchants. My mind teems with questions. How do the hooves handle slippery sand? What if I get stuck up here? My life depends on this camel. I was unable to walk without effort on the Gobi, a task far harder than walking on a beach as the sand is finer. At the top of our dune, we stretch our legs and take photos.
The oasis below with its moon shaped lake is unforgettable. Blonde dunes are in almost every direction. Now we know how the desert swallowed men who were unable to find an oasis.
On the way downhill, I ask, "Do you like to sing?"
"I love to sing."
"You sing, I'll sing. OK?"
Ancient songs pour out of my young driver. "Your voice is beautiful!" I say.
"Oh! What a beautiful morning!" I sing for him. "Oh! What a beautiful day!" Zhao turns and says, "Good! Very good."
He sings another song. I wish I could understand.
I am reluctant to dismount at the camels' station. All 50 camels are sitting with heads held high. I get out my camera. My camel suddenly lays his head down on the sand.
"Did I wear you out?" I ask in English.
My camel's left eye has a tear. "I think my camel should see a doctor. His eye is sick," I say.
Zhao gives me a questioning look, then poses for a close-up photo.
At home, I hold my camel's photograph. Here is a noble friend.
The author is an American who formerly lived in China