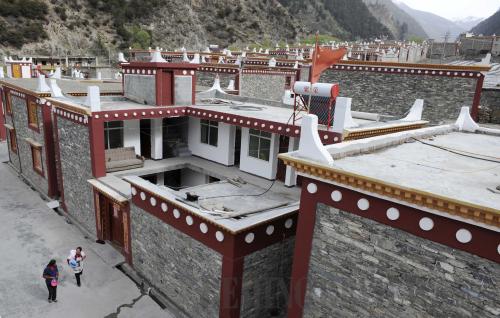 RECONSTRUCTION MAGIC: A corner of a rebuilt village resided by Tibetan people in Aba Tibetan and Qiang Autonomous Prefecture (LI QIAOQIAO)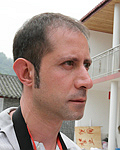 (CHEN JIAN)
It has been three years since the sadly Wenchuan earthquake in Sichuan Province swept the district, claiming nearly 70,000 lives, causing nearly 20,000 to go missing and leaving millions of people homeless.
The deadline set by the Chinese Government to rebuild the area and new lives to the victims was three years, and the state has decided to allocate funds totaling more than 1 billion yuan ($153.85 million) to the initiative. This is a project of unprecedented scale aimed not only at providing a good life to the victims, but a better future to the affected region.
Wei Hong, Deputy Governor of Sichuan Province, said that 100 percent of the reconstruction projects will be completed by September this year. "So far, more than 94 percent have already taken place, with an investment of 787.1 million yuan ($121 million), equivalent to 91 percent of the total planned," he said.
Wei added that, in the first year after the quake, 3.5 million homes damaged by the earthquake were rebuilt, and within two years dwellings for 1.5 million households in rural areas and 260,000 others in urban areas have also been rebuilt. Government sources indicate more than 3,000 new schools and more than 1,300 hospitals have also been built.
Thanks to the Central Government's financial support and donations, houses for the victims were repaired or rebuilt at a low cost: a new apartment costs only 20,000-50,000 yuan ($3,077-7,692), an amount that can be borrowed at advantageous conditions guaranteed by the state.
The financing of these projects has been carried out through mechanisms that not only prevent corruption, but also provide incentives for revitalization of the local economy, since it is possible to apply for credits not only for a home but also for the establishment of a business.
This is the case of Liu Yahuai, a 68-year-old farmer from Shouyangquan Village of Xinxing Town in Pengzhou City. Liu paid 13,000 yuan ($2,000) for his new home. He also obtained a loan of 200,000 yuan ($30,769) for building a second floor with 20 rooms that he uses as a small local hotel.
Many towns, after reconstruction, redirect the economy to tourism. The reorientation toward tourism, culture and "clean" industries, features of most regions that traditionally focused on agricultural and industrial economies, is not a coincidence. Special attention has been paid by the community to this opportunity to transform its model of development in a more sustainable and respectful one, in an area where nature is a true gift to the senses.
Shuimo Town of Wenchuan County is a model in this regard. With just over 20,000 inhabitants of Qiang, Tibetan, Hui, Yi and Han ethnic groups, the town has been reshaped according to its traditional architecture and moved the majority of its industries to other places.
Rong Jingjing, 23, a local tour guide, who still has scars from the injury suffered in the earthquake, said the town received around 4,000 visitors daily, increasing to 10,000 on weekends. Rong, a native of a nearby village, finds exciting living there. "Before, water and air here were polluted. Now all these problems have been solved. Our life is wonderful, our earnings are rising, and my family can afford to live in a better house."
The target, says the local government, is to increase the inhabitant's incomes by three or four fold, and the GDP pillars will be tourism, culture and education. The road from Shuimo to Yingxiu, a town that was the earthquake epicenter, is testimony to this change. Along the river that runs parallel to the road and among splendid mountains, where some effects are still visible in the aftermath of the seism, several empty factories give way to a new economy offering more opportunities and a better quality of life. Upon arrival in Yingxiu, one can't but marvel to note that in only three years, now stands a completely new town, with houses following the beautiful patterns of traditional architecture and seamless integration with the environment.
Examples of totally new places are almost countless: Beichuan Qiang Autonomous County, one of the most affected areas, is now a new city that will soon host a population of 70,000. The intelligent design of the new county was also inspired by traditional architecture in the region. With an industrial park, a new middle school, and a neighborhood entirely devoted to traditional culture, the new county impresses people by its vision of the future, integrating a sustainable economy, respect for traditions and the environment, a difficult balance to achieve.
The author is a Spaniard living in Beijing and working for China Today