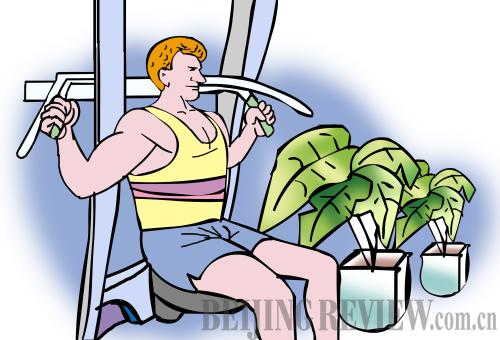 (LI SHIGONG) 
As if hunting for an apartment in Beijing wasn't difficult enough—trying to find the perfect fit between proximity to work, price and life's other little conveniences (such as Jenny Lou's and other Western grocery stores)—I added another requirement to my search for a new pad: a nearby gym.
It's been years since my morning routine of playing tennis followed by a quick swim, and the days of daily weightlifting workouts are gone, but I do try to keep myself in shape. The fact that I now lead a largely sedentary lifestyle, locked down in front of a computer screen for much of the day, has made getting to a gym vital to keeping my rear-end and stomach from reaching larger sizes. That and the fact Chinese food tends to be on the oily side has caused me once again to seek out a gym.
At university I was lucky enough to avoid the dreaded "freshman 15"—the hefty 15 pounds all college freshman seem to gain from overeating and drinking, and lounging around instead of exercising—and in Beijing I would have to look out for the equally harrowing Beijing Buddha belly.
And so, once establishing myself in Beijing, the search for the perfect gym began.
Before moving here, I was worried the only exercise options would be walking, running or riding a bike. While walking certainly isn't a problem, riding a bike can be a major health hazard instead of a health saver—traffic in Beijing is insane, the drivers even more so. A quick Google search of "gym, Beijing" presented me with a long list.
I chose a place in Beijing's Central Business District that had received rave reviews: five stars and described as "very Western." The comments were spot on. The gym was fully equipped with a variety of resistance machines, free weights and treadmills and bikes. They offered interesting fitness classes. They had an aquatic fitness area (read, a nice pool). It was a true Western gym like the ones back home—and it would cost a whopping 5,000 yuan ($730) a year.
Yes, the equipment was top-notch; yes, the pool looked clean and inviting; and yes, the staff seemed friendly; but for this price I would have needed a promise that becoming a member of this gym would guarantee that I develop a ripped body like Brad Pitt or any one of the guys from hit American TV show Jersey Shore. No such guarantee could be made.
The search continued.
The next gym was located just north of Dongsishitiao. Finding it was somewhat difficult, but when I stumbled in I wish I hadn't. The gym, barely two years old according to a flyer, looked like a medieval dungeon. Located in the basement of a shopping complex, there were no windows and ventilation is poor. The locker room walls oozed with humidity and sweat and were covered in grime. Rust lined some of the weights, while other machines had "Out of Order" signs on them. Some of the patrons looked like a dangerous bunch—perhaps this was a gang den. After a quick tour, I cautiously asked for the price: a much more manageable 700 yuan (a little over $100) a year.
The other gyms on the list didn't look too promising, either. Many were located away from major subway lines or places I wanted to live, and others were owned by hotels, which I knew would come along with an exorbitant membership fee. But one last gym stood out—Powerhouse Gym in Dongzhimen.
Powerhouse, located on the fourth floor of Ginza Mall, was a modest gym in terms of equipment but the environment was warm, welcoming and not so smelly. The locker rooms were clean. Large windows let in sunlight. It was air-conditioned. There was a tennis court on the roof. Even during the evening gym rush hour, it didn't seem too crowded. And it was right across the ring road from an apartment I was looking to rent. The only problems were the price—they wanted a steep 3,500 yuan ($515) a year, which included access to the gym's pool—and the fact Powerhouse fell a little below my Western standards. After bargaining, I got the price down to a reasonable 2,009 yuan ($300), which included a towel and a few free sessions with a gym trainer.
With the three gyms in mind, I found myself in something of a Goldilocks dilemma: one gym was too expensive but extremely nice; one was too cheap and dingy; and one was just right, a good price with decent facilities and a prime location. It was a no-brainer—I joined Powerhouse a few days later.
The author is an American living in Beijing