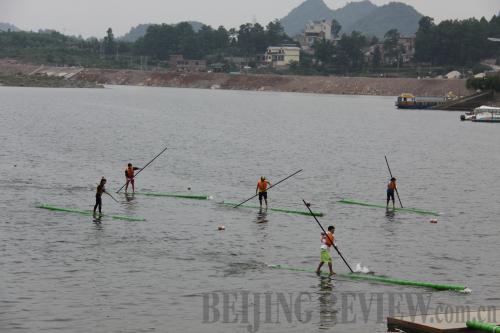 PRACTICING FOR THE WIN: Single bamboo drifting athletes practice on the Hongfeng Lake, 32 km west of Guiyang in Guizhou Province (YU JINGJING)
A team of barefoot young people take to the water on 7.5-meter-long bamboo poles and maintain their stability with ease as they glide across the Hongfeng Lake in southwest China's Guizhou Province.
But unlike local merchants who long ago used large pieces of bamboo as makeshift floats to get their wares to market, these young people are professional, full-time athletes in the ethnic minority sport of single bamboo drifting.
By contrast, the round drifts they glide on are no longer made of real wood, but green fiberglass that resembles bamboo. They keep their balance with the help of a 4.5-meter pole also made of fiberglass.
These athletes will represent Guizhou Province at the Ninth National Traditional Ethnic Minority Sports Meet on September 10-19 in Guiyang, capital city of the province.
The municipal government is spending about 30 million yuan ($4.6 million) upgrading the Hongfeng Lake Water Sports Training Base, about a 40-minute drive from Guiyang. It is one of the 17 venues in and around the city that will host the competitions. Builders at the Hongfeng Lake complex are adding a new canopied viewing area for spectators to watch the single bamboo drifting and dragon boat races. They also are constructing a storage facility to house the fiberglass drifts and other equipment.
Other competition venues at local universities, stadiums and training centers are being renovated as well. Guiyang's newly built Olympic stadium will host the sports meet's opening and closing ceremonies. Besides the venue upgrades, the municipal government has gutted a residential area next to Guanshanhu Park in the new Jinyang District where the stadium is located to build a stage and viewing area where a daylong performance by different ethnic minority cultures will be held on September 15 in conjunction with the sports meet.
During the games, thousands of athletes from China's 55 ethnic minority groups will go head-to-head in 16 competitive sports such as martial arts, Mongolian-style wrestling, archery, horse racing and various ball games. They will also compete in 180 demonstration sports, which incorporate traditional games, costumes, performances and dancing. One such demonstration sport is a group dance called tuo guo that combines gymnastic moves, calisthenics and batting around feathered shuttlecocks.
The single bamboo drifting will be a competitive sport for the first time. Like single bamboo drifting, many of the other sports featured have their origins in the daily activities of China's ethnic groups and the physical environment in which they live. These sports are played during traditional fairs, celebrations and holidays. Many require a certain level of physical skill such as balancing, swinging or moving in unison and are often accompanied by music and singing.
Many of the athletes who will participate in the sports meet train at local sports bases around the country, which have been set up in various autonomous areas to develop young sports men and women in ethnic sports and improve the health of minority groups.
State Ethnic Affairs Commission selected Guiyang to host this year's meet from a group of 25 provinces, autonomous regions and cities throughout the country.
The sports meet is good news for Guizhou, given it is one of the country's most undeveloped provinces, but rich in natural landscapes and ethnic minority cultures. Ethnic minority groups, including the Miao, Bouyei and Dong, make up about 37 percent of the population of the province. In China as a whole, ethnic minority groups comprise roughly 8.5 percent of the total population of 1.3 billion.
The provincial and municipal government officials say the event will promote multi-ethnic communication and understanding among the athletes.
China held the first National Traditional Ethnic Minority Sports Meet in 1953 in Tianjin to revive the cultures of its ethnic minority groups and fortify national unity. The event has been held about every four years since 1982.
Unlike other sports events the mainland recently has hosted, such as the Beijing Olympics in 2008 and the Asian Games in Guangzhou in 2010, the National Traditional Ethnic Minority Sports Meet is only for national athletes. The games are said to be the only nationwide traditional, multi-ethnic sports event in the world.
The author is an American living in Beijing