Meanwhile, China's foreign exchange market is quickly developing and trading entities are more capable of pricing independently and managing their risks, said the central bank.
Expanding the yuan's floating band is a significant step of the yuan's trading reform, but will also increase trading risks for banks and export-oriented companies in the short run, said Lian.
"It will be hard for Chinese exporters to get used to two-way fluctuations since most of them are used to one-way moves. It means the yuan will fluctuate more dramatically," said Yuan Shiyi, Vice Manager of International Trade Department of Guangdong New Pearl Ceramics Group.
The move will also affect manufacturing costs, said Liu Jianjun, Deputy Director General of the China Foreign Trade Center under the Ministry of Commerce. He suggested exporters boost global competitiveness and pricing ability.
The new trading band will encourage more companies to settle trade directly in the yuan, said Liao Qun, chief economist at the CITIC Bank International.
But in the short term, exporters and banks should make preparations against risks stemming from exchange rate fluctuations, said Lian.
Lian suggested exporters buy financial derivatives to hedge foreign exchange trading risks and banks strengthen risk management on foreign exchange assets.
"Enterprises have to spend certain costs to guard against risks," Lu said.
"If China's export enterprises could always pay close attention to the exchange rate fluctuation and form our own risk prevention system, we can make a higher profit by seizing the right time to make deals," said Gao.
"Only after exporters get adapted to the fluctuations, can the yuan's price reflect true market conditions," said Lu.
Milestones As the Yuan Goes Global
- April 14, 2012 The People's Bank of China (PBC), the central bank, widened the yuan's trading bandagainst the U.S. dollar to 1 percent from 0.5 percent.
- January 13, 2011 The PBC launched a pilot scheme for the yuan settlement of overseas direct investments by domestic companies.
- July 19, 2010 The PBC and the Hong Kong Monetary Authority agreed to expand the yuan trade settlement and clearing in Hong Kong, staring the offshore trading of the yuan.
- July 2009 The Chinese Government launched a pilot program of the yuan settlement in cross-border trade transactions.
- June 2007 China Development Bank issued yuan-denominated bonds in Hong Kong, which is the first yuan bond launched outside the Chinese mainland.
- July 21, 2005 China unpegged the yuan to the U.S. dollar and shifted to a managed floating exchange rate regime based on market supply and demand with reference to a basket of currencies.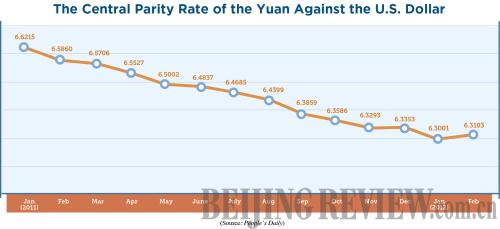 Email us at: liuxinlian@bjreview.com