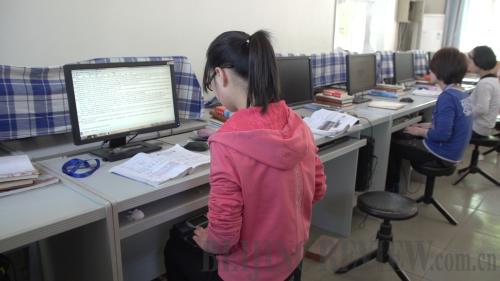 NEW SKILL: Students learn stenography at the Rural Women Training School (YUAN YUAN)
But after one week, they had already adapted to life in the school. "The teachers here are very nice and it feels more like a big family," said Zhang, who made many friends here and doesn't want to leave anytime soon.
Compared to many other students who have never been to Beijing before, 20-year-old Zhou Jing from northwest China's Gansu Province had worked as a waitress in a cafe downtown for more than a year before entering the school.
"The cost of living in Beijing is skyrocketing and I don't think it is suitable for me anymore," said Zhou. "Since I graduated from high school, I haven't had a chance to go back and learn... I am so happy that I can become a student again and I cherish this precious opportunity."
Zhou also plans to go back to her hometown and work as a kindergarten teacher.
"Eighty percent of our students want to go back to their hometowns after studying here," said Luo. "It is contrary to the popular assumption that rural people are more inclined to stay in big cities."
"I think the hometown needs me more," said 21-year-old Zhang Yan from southwest China's Sichuan Province. After middle school, Zhang dropped out and started to help with farmwork at home. "I wanted to be a kindergarten teacher but I wasn't qualified."
Zhang Yan heard about the Rural Women Training School from her uncle, who read about it in a newspaper. "I was very excited to know there was such a channel and I finally got accepted," she said. "I have broadened my horizons, as there are frequent foreign visitors."
Instructors encourage the future teachers to speak with confidence in front of their classmates. "I am more open and active now and I am confident to become a good kindergarten teacher in my hometown," said Zhang Yan.
Here we are
"Many rural women are actually very talented. They just need a chance," said Luo, who has been working at the school for 10 years. "This school provides greater opportunities to those who have the least."
The school has trained more than 10,000 students of 22 ethnic groups from 26 provinces and autonomous regions since its founding.
Wang Zhongjiao, who took courses on kindergarten teaching for three months in 2006, is now the headmaster of a kindergarten in her hometown in Inner Mongolia.
"Teachers always taught us never to give up. The early days of working in the local kindergarten were very stressful and I almost quit," said Wang.
Except for the regular courses, Wu also taught students how to fight for their rights using laws. She carries the Chinese Constitution with her at all times and teaches the students which laws protect them in which situations.
"I tell the students after they go back to their hometowns, they can call me for advice if they get into trouble," said Wu. "We want them to be empowered women with confidence and a sense of justice."
Wu's school attracts admiration from international educators.
"It is marvelous to have a well-organized school with so many contributions. It helps a lot for their future" said William L. Parish, a professor of sociology at the University of Chicago. Parish brought his own students for a visit on May 10.
"Women do need to be given more confidence and need to find an independent way on their own," said Parish.
Email us at: yuanyuan@bjreview.com