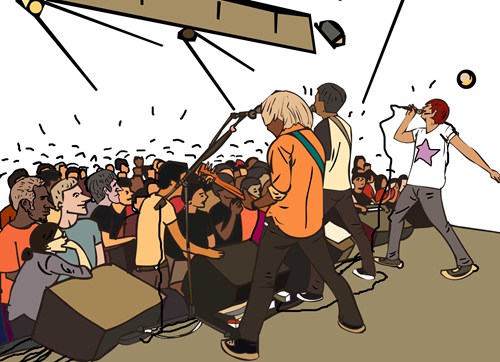 (LI SHIGONG)
Having recently seen the LA thrash metal band Metallica in Shanghai, I've come to reflect on the fact that I've been in China for seven years, and I need to be honest—the live music scene here is pretty small. Having said that, I guess that I was spoiled in my native land of Australia, where I had a smorgasbord of live acts to see on any given night, and nothing short of an avalanche of national and international artists descending on Melbourne every summer. But here? Well, during seven years, I've seen only four bands.
Let me elaborate. When I say "bands" I mean seeing people who write and perform their own music, opposed to those playing cover versions of popular tracks. Going to a bar and hearing songs you already know done by other people (whether accurately or not) is not what you're there for. What you want is wonderful, new, original music from bands that might become tomorrow's music legends. Therefore, when I saw a bar band in Beijing last year playing a range of Tina Turner covers, I was rather disappointed.
The first city in China I called home was Wuhan, central China's Hubei Province, which has a reputation for being China's home of punk—well, I didn't find any punk there, unless you count some kids badly copying Green Day songs (point one—Green Day has been pop punk, not punk, for decades; and point two, copying punk songs goes against the entire ethos of punk itself). The only thing I'd call a band in Wuhan was an Australian/Vietnamese band called Regurgitator, who came to Vox bar around five years ago, and finally gave me the buzz of spontaneous indie rock that I'd been starved of for years. The live music scene in Nanjing, east China's Jiangsu Province, is not much better for an expat who loves good music (sorry, Richard Clayderman and Backstreet Boys don't count).
On the bright side, however, is the slow attraction of international acts (meaning famous bands); but the emphasis is on slow. For instance, the international headliners at both MIDI and Strawberry Music festivals would hardly raise an eyebrow where I come from, sorry to say. Regarding huge stadium gigs, the trend at the moment seems to be attracting billion-selling dinosaurs such as Pet Shop Boys, Aerosmith and Tony Bennett; in this regard, I must confess to have seen Elton John in Shanghai earlier this year, which was truly fantastic. The absolute highlight of my musical experience in China thus far, however, came not from a massively successful band; in fact, quite the opposite. The Montreal group Godspeed You! Black Emperor (yes, the exclamation mark is correct) recently came to Shanghai, which amazed me, being the absolute definition of a cult band. Ten definite points to the promoter who got them here.
So, until very recently, the only acts that I'd seen in China in nearly seven years were Regurgitator, Elton John and Godspeed You ! Black Emperor…what a disparate trio!
However, I just saw the dinosaurs of, sorry, the titans of thrash metal, Metallica, who graced these shores in mid-August. While the members are now definitely dinosaurs, and therefore fit nicely into the above mentioned trend, their presence shows that something is changing; maybe positive, maybe negative, maybe neither, but definitely changing, because the thought of this testosterone-dripping, anger-laden band being let into the country 10 years ago was unthinkable.
Even if Metallica's performance has no symbolic value at all, one thing is obvious—they can still pump out a damn good show, white hair and all. Thanks, Shanghai.
The author is an Australian living in Nanjing, Jiangsu Province