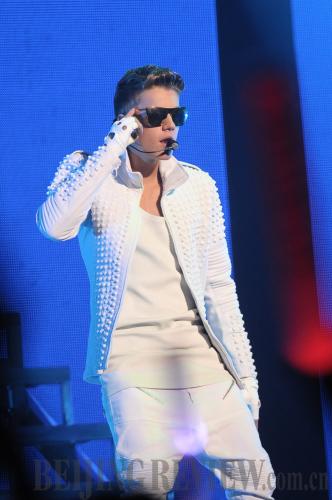 YOUNG IDOL: Justin Bieber at his Beijing concert on September 29 (CFP)
The street outside the Mastercard Center was lined with stalls selling an assortment of shirts, hats, posters, umbrellas, buttons, temporary tattoos, letterman jackets and bags, all with one thing in common: They had Justin Bieber's face and name splashed all over them.
The air was thick with smog and you could barely see two stalls down, but that didn't stop the hoards of Beliebers—what Justin likes to call his fans—from making their way to the far southwest portion of the city to see him perform live.
The 19-year-old Baby singer was on the Asian leg of his Believe Tour and Beijing was his first stop in China. It was a mixture of genuine curiosity, nostalgia and Canadian pride that drove me to purchase a ticket in the nosebleed section of the stadium. Before the show, scalpers came up to me with their discreet "mai piao, mai piao," mumblings, asking if I was interested in buying a ticket.
I said no thanks and a scalper smiled and asked, "Which country are you from?" Clearly, my not so perfect Chinese gave away the fact that I was an out of town girl.
The same one as Bieber! I replied. To which, he began guessing all the wrong countries. By this time, two more scalpers had joined in on our lively conversation of: guess which country Bieber is from.
"America?" No. "Britain!" No. "Are you Korean! " No. " I'm sure Bieber is American!"
During the concert, Bieber performed hit after hit after Billboard 100 hit. The sitting audience bouncing their Justin Bieber-labeled, hand-held light sticks to the beauty and the beat of the light and sound show. I turned around and got a good look at the Chinese crowd, sitting passively, bouncing their lights and singing along to his songs. "I'll be your platinum, I'll be your silver, I'll be your gold," everyone around me sang in perfect English. It was impressive.
If anything happened to his singing career, Bieber could have set up a school to learn English in China and could have been fairly successful with it—especially with the females.
Tickets for his show were starting at 480 yuan ($76.2), with the most expensive seats in the stadium's Area A selling for 2,580 yuan ($410). Surprisingly, the Area A seats were all occupied during the show… this was in a city where the average monthly salary was 5,223 yuan ($854) in 2012, according to the Beijing Municipal Human Resources and Social Security Bureau.
Perhaps I shouldn't have been so surprised. After all, his New York show at Madison Square Garden sold out in 22 minutes. Music critics may ridicule JB but his fans in all corners of the world clearly adore him.
For some, the concert ticket was well worth the experience. It certainly was for Melinda Chen. Fans screamed as Bieber began his One Less Lonely Girl concert tradition of making that one girl feel very, very special. Beijing had one less lonely girl as Bieber serenaded the statuesque Chen, caressing her face, and giving her a hug. Chen was all smiles, and surprisingly didn't melt into a bucket of quivering, giddy, love-struck goo.
"What's your name, sweetie?" Biebs asked. "Everybody give it up for Melinda," he says, taking her hand as he runs off stage with her.
The ladies (and gents) of the audience would have their moments with Bieber later as he appeared shirtless in a studded, black jacket to end the night with his song, Believe. Then later for the encore, sans jacket.
Even from my distant seat, you could see he had clearly been working out and was eager to show off his toned torso. The Beijing crowd certainly appreciated it and roared louder than their usual polite cheers. The applause ended abruptly as the show finished. Bieber exited the stage and people immediately began filing out of the stadium. So much for being stuck in the moment.
The next day, Bieber did the China thing and pictures of him climbing—or rather, being carried up—the Great Wall circulated online. He also caused widespread panic among his fans and bodyguards when he was spotted having dinner and skateboarding around Sanlitun Village in downtown Beijing. What looked like hundreds of female fans swarmed the pop-star, singing Baby and gifting him with flowers, balloons and their unconditional love when he exited the restaurant.
JB performed two more shows in China on his Believe Tour, one in northeastern Dalian and one in Shanghai. But for his thousands, and possibly millions of fans in China who weren't able to make either of his shows, Bieber had these parting words for his Beijing audience, "I wanna let you know that no matter what you're going through in your life right now, no matter what dream you have, its never too big. As long as you just believe."
The author is a Canadian living in Beijing