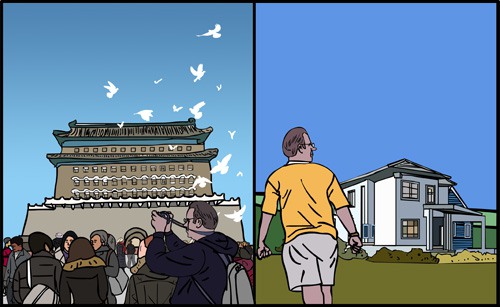 (LI SHIGONG)
Australia is known as a country with plenty of space, and comparatively few people to populate it. When you think about the fact that there are six cities in China with a greater population than the whole of the 3.5 million-square-km area of the Great Southern Land, perspectives may change. It is one of the backdrops to the formation of the Australian character. Many cannot just go around the corner for their weekly groceries. Sometimes it may even be delivered by airplane. In some regions, it might be a few hours' drive to a neighbor's place.
China, too, has its own wide open spaces. But very little of the population have seen the plains of the north, while many live their whole lives within a very small geographical area, in cities, or rural villages. Either would be considered crowded by Aussie standards.
To compare or contrast is neither beneficial nor productive.
I remember visiting a hutong in Shijiazhuang, where my wife's family was born and raised. Parents and four children lived in very cramped conditions. The whole house would fit into two rooms of our house in Brisbane.
Now I wish to address both the pluses and minuses of wide open spaces and close-quarter living. When you are constantly and physically close to a lot of people, the capacity to tolerate individual foibles, habits and idiosyncrasies increases. You learn to put up with noise, personal issues, "making do" with minimal resources, and accepting that other people are going to be "in your face." This leads to a feeling of well-being in the community, and individual sacrifices are made for the benefit of the whole. The downside, from a Western perspective, is the word "sacrifice." As China's middle class grows stronger, individual sacrifice for the benefit of the whole community will no doubt diminish. More demands will be made by wealthy individuals. As a Westerner, I hope this does not see the decay of the family fabric that sets your country apart from Western society.
The upside of wide open spaces is that it gives time to contemplate one's own existence. Whether it is gazing out at some of the 25,000 km of coastline that Australia enjoys, or watching with wonder a canopy of stars in the Red Center (the middle of Australia), time seems to take on an eternal dimension. There have been plenty of Chinese poets and philosophers who have contemplated similar things, but it is not "the norm."
Easy going, and "fair dinkum," are two characteristics that are commonly applied to Aussies. The first is self-explanatory. The second means a variety of things: that you can trust a man's word on a handshake; that he means what he says; that he is not seeking a hidden agenda; he is open and forthright, and he can be trusted.
I have experienced both close quarters living and wide open spaces. My 10 years in the Royal Australian Navy had me living in extremely cramped conditions on board a warship, and led to some of the closest friendships that one could wish for. Fighting a war brought us very close together.
But I have to say that living on 700 acres (320 mu) in Guyra on the New England Tableland in northern New South Wales was about as close as I have been to my own vision of paradise. My house was 1.5 km from the road, and my nearest neighbor was about 4 km away. I had dogs, cattle, sheep, koalas, emus, snakes and lots of other animals running free on the property.
My home is now on Bribie Island—just over one hour north of Brisbane, and about two minutes' drive from the Pacific Ocean. Surf beaches, quiet inlets, Pumicestone Passage, and lakes, are all a stone's throw from home. But what do I yearn for? To return to China, and experience once again your crazy, frenetically paced, rapidly changing society! Give me a crowded suburban restaurant where the food is cooked in front of your eyes. Give me the good-natured jostling of the local produce markets. Give me the natural laughter and joy that life brings to everyone who I have met in China. I can put up with everything not being five-star. I can accept everything that you have to throw at me! I am coming back soon.
The author is an Australian who lived in China