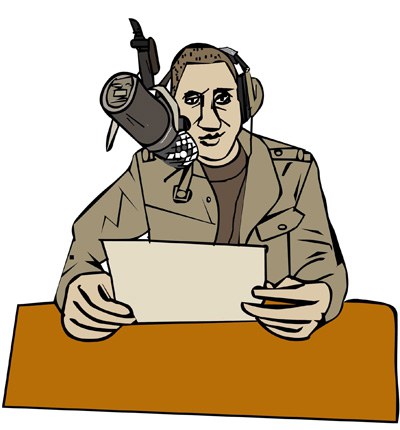 (LI SHIGONG)
Earlier last year when I was dreaming of more time to relax at the end of the week, I was confronted with additional work, which later paved the way for me to work on a TV show.
It all started in April 2013, when Beijing Love Story, a popular Chinese TV show, was to be translated into Hausa. Hausa is a Chadic language; a branch of the Afro-Asiatic language family with the largest number of speakers in Africa and one of Africa's most spoken indigenous languages after Swahili and Arabic. Spoken as a first language by about 34 million people, it is also a second language for about 18 million more, to make for an approximate total of 52 million people that speak the language across the world.
As part of the translating team, I worked overtime to perfect the part of the story that I was given, making sure it was an appropriate and correct version of the dialogue in Hausa. Later, the production team selected some of us to do voiceovers for the Hausa version of the show.
To be honest, before coming to Beijing I believed that all Chinese movies were about kungfu, with simple plots but impressive stunts. However, after working on Beijing Love Story, I discovered that there is more to Chinese entertainment than just martial arts.
The voice acting for Beijing Love Story, which was the first Chinese TV drama translated and dubbed into Hausa, became some of the most interesting and challenging work I have ever done.
The story, which highlights the ordeal of young people in Beijing struggling to balance their professional and personal lives and the intricate relationships with their friends and lovers, received praise from viewers back home in Nigeria, shortly after its premier in Abuja, the state capital, in September 2013.
Looking back at the dubbing sessions, despite the challenges we confronted­—which included trying to match the original Chinese actors mouth movements to the Hausa script as the original Chinese was much shorter and faster most of the time—it was a lot of fun working on a TV show.
Another challenge I personally faced was that to make a good dub, you have to play characters that are different ages and sexes and have different personalities. Trying to live up to the reputation of the master artists is a difficult test. I felt pressure whenever I had to voice a major character, as I was afraid I couldn't do better that the original artist. Above all, one of the most difficult parts of the work was when the original character opened his mouth without saying anything, or when he or she moves around before talking. In such cases their actions have to be followed closely by the voice actor.
Besides all these challenges, I have to admire the fact that in the end our hard work paid off. Many friends and family back home kept calling me to express their delight over the work we did. I also had the opportunity to voice another role in August, voicing a support actor for A Beautiful Daughter-in-Law Era, the second Chinese TV drama translated into Hausa. I'm looking forward to working on more Chinese TV shows, especially those with a comedic edge; such programs have a wider acceptance in the African market and more universal appeal.
It is worth mentioning here that working on these two programs has granted me an opportunity to see Chinese people from different angle and from a more elaborate social dimension. I now clearly see the Chinese people, as a nation where social values and cultural dynamics are similar to that of my home country, though there are of course variations in our history, politics and economic status.
I think the exponential development made here in China is connected to the fact that the Chinese Government has worked so hard toward transforming the country for the better. I believe promoting Chinese culture through various means including education, intergovernmental cooperation and cultural exchanges deserves commendation.
From my point of view, China is one of the most serious nations in term of preservation of its culture. It is worth mentioning that when it comes to international relations, be it at the government level, or in business and commercial arenas, a full understanding of cultural diversity plays a major role in obtaining a successful outcome.
Moreover, if we consider culture as one of the necessary foundations of building a wise and sophisticated society, it is clearly acceptable to say that investments into culture and promoting it are worth supporting. It is also important to social development, through which intellectual and human capital can be enhanced, creating an enlightened society, and promoting social integration.
Lastly, I hope that activities related to sharing culture through films, drama and other means should be reciprocal globally. That is to say that, taking African nations as lagging behind in this regard for instance, we should also sit up and develop a keener sense of urgency in this regard, so that they will be able to take up their seat at the table of dignity alongside other nations of the world as equals.
The author is a Nigerian working in Beijing