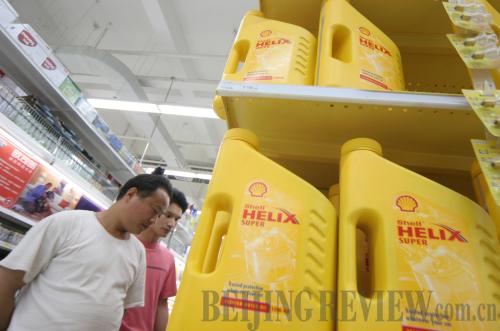 RELAXING MARKET ENTRY: Consumers browse a selection of lubricating oil branded by Shell (CFP)
The new National Energy Commission convened its first meeting on April 18 presided over by Premier Li Keqiang, signifying great reforms of China's energy system. At the meeting, Li proposed encouraging investors of all kinds to participate in energy exploitation.
In recent years, China has been intensifying its efforts to open up its energy sector. As early as 2005, the State Council released Several Opinions on Encouraging, Supporting and Guiding the Development of Individual and Private Economy and Other Non-Public Sectors of the Economy, which gave the green light for non-public capital to enter the energy sector, including oil exploitation.
On June 20, 2012, the National Energy Administration (NEA) issued an implementing opinion of further encouraging and guiding private capital to expand investment in the energy industry. They stated plainly that all the projects included in the national energy plan, except those prohibited by the law, are open to private capital, and that qualified private enterprises should be encouraged to participate in the construction and operation of national key energy projects in many ways. Moreover, eligible private enterprises should be allowed to take the lead in the exploitation of large coal mines and unconventional oil and gas, such as coal bed gas, shale gas and kerogen shale.
Despite relentless promotion by the government, non-public capital has been frustrated in its attempts to get a piece of the energy exploitation pie. Official data show that new energy industries like solar and wind power have championed a new level of openness, in stark contrast to traditional energy sectors.
Take petroleum for example. Its exploitation has been monopolized by three major state-owned enterprises—China National Petroleum Corp. (CNPC), China Petroleum and Chemical Corp. (Sinopec) and China National Offshore Oil Corp., leaving only midstream and downstream segments to non-public capital, in particular the sales of oil products and the storage of crude oil.
Wang Zhen, a professor at the China University of Petroleum, argued the state monopoly would be broken up only when non-public capital is admitted into upstream segment, and that Premier Li's proposal may represent a breakthrough point.
Real efforts
At the energy commission's meeting, the premier suggested that a total of 80 demonstration projects—which are open to public bidding—will be pushed forward, and then social capital of various kinds be encouraged to dabble in clean energy projects including hydropower, wind power and photovoltaic power, in the form of joint venture, full ownership and franchise.
Wang noted that since the Third Plenary Session of the 18th Central Committee of the Communist Party of China held last November, the Central Government has been resolutely reinforcing efforts in carrying out reforms. Due to resistance from state-owned sectors, the opening up of the energy exploitation market has made little progress in the past few years. Premier Li's reiteration gave people reason to believe that breakthroughs may be made on this front.
The move has a lot to do with the country's determination to adjust its energy structure. At the meeting, Li said that it was essential to advance institutional reforms, propel competition, and ensure all investors compete on the basis of fair play.
China abounds in coal, but lacks petroleum and gas. According to the National Development and Reform Commission (NDRC), coal consumption in 2013 accounted for 65.7 percent of primary energy consumption, while natural gas and non-fossil energy made up a mere 5.7 percent and 9.8 percent, respectively. Since the presence of haze, acid rain and the contamination of groundwater resources have aggravated pressures on the natural environment, China has been trying hard to transform its energy consumption model.