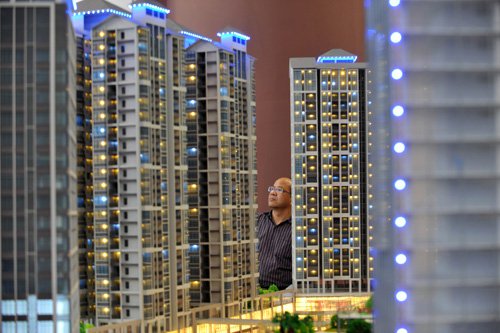 REAL ESTATE BOOM: A citizen fixes his eyes on the sand table model at a real estate exhibition in Nanning, Guangxi Zhuang Autonomous Region, on May 1 (LU BOAN)
Returning from a stint as a visiting scholar at Cambridge University, Wang Shi, the 63-year-old heavyweight in China's real estate world, didn't change his straightforward style of communication.
"People can no longer expect to be laughing all the way to the bank simply by purchasing properties, and the mushroom growth of China's housing market will begin to slow down," said Wang, Chairman of Vanke, the largest real estate developer in the country, in an interview with Caixin website.
His prediction has now been echoed by the home sales during the May Day holiday (May 1-3), usually deemed as a selling season for real estate.
The wave of real estate price cuts has gradually swept from cities like Hangzhou of east China's Zhejiang Province and Changzhou of east China's Jiangsu Province to metropolises without excessive inventory, such as Beijing, Shanghai and Guangzhou.
According to statistics provided by the Hong Kong-based property agency Centaline Group, home sales in the 54 monitored cities reached 9,887 during the holiday, down 32.5 percent from 14,642 in 2013. Of them, four first-tier cities, including Beijing, Shanghai, and Shenzhen and Guangzhou of Guangdong Province, sold 1,046 homes, a decrease of 40 percent year on year, and second-tier cities also witnessed a slump of as much as 35 percent.
Zhang Dawei, an analyst from Centaline Group, said that it was the consumer rather than the real estate developer that called the shots now, for an array of factors had changed the equation between supply and demand, and some developers had chosen to jack up sales by keeping down margins.
Causes
Data from the National Bureau of Statistics (NBS) show that, in the first quarter, real estate investment was 1.53 trillion yuan ($244.95 billion yuan), up 16.8 percent year on year, the lowest level in recent years. Meanwhile, income from land use right sales in the first quarter reached 1.08 trillion yuan ($173.41 billion), up 40.3 percent year on year, according to the Ministry of Finance.
Nie Meisheng, Honorable Chairman of the Chamber of Real Estate Commerce at All-China Federation of Industry and Commerce, noted that the high prices paid by real estate developers to grab lands and the decline in investment have dragged down capital turnover, and intensified the financing pressure developers face.
In addition, banks have also begun to slash loans issued to real estate enterprises and housing loans issued to individual buyers. In this way, greater pressures on the capital chain have forced some developers to offer bargains.
Mao Daqing, Vice President of Vanke, said China's real estate market has become more complicated since entering 2014. The excessive land supply in some second- and third-tier cities like Shenyang and Yingkou of northeast China's Liaoning Province, and Tangshan of north China's Hebei Province, has overdrawn their local purchasing power and marketing capacity. In first-tier cities, the dramatic rise of land price in 2013 has overdrawn the room for housing prices to go up further.