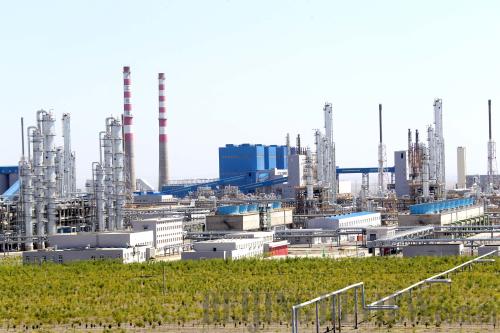 PRIVATE ENERGY GIANT: Guanghui Energy's project in Hami Prefecture, Xinjiang Uygur Autonomous Region (CFP)
On April 24, Guanghui Energy Co. Ltd., headquartered in Urumqi of northwest China's Xinjiang Uygur Autonomous Region, announced its plan to issue preferred shares, making it the first A-share company to make such an announcement since the regulator gave the green light to this new type of funding. Unexpectedly, the move quickly aroused tremendous discontent among the company's investors. From April 25 to May 8, its share price plummeted by 20 percent.
Preferred shares are commonplace in the developed capital market, but remains a novelty in China. On March 21, the China Securities Regulatory Commission (CSRC) unveiled the Preferred Stock Pilot Administrative Measures, stipulating that only three types of listed companies are allowed to issue the shares: Shanghai Stock Exchange 50 index members (the largest by market capitalization); companies planning to acquire other listed companies by issuing preferred stocks for payment; and companies planning to buy back common stocks to decrease their registered capital by issuing preferred stocks as payment.
As investors give the cold shoulder to the preferred share, there have been concerns that the new funding vehicle may be not compatible with the Chinese market.
Investors offended
According to its statement filed with the Shanghai Stock Exchange, Guanghui Energy will sell no more than 50 million shares to raise no more than 5 billion yuan ($800.5 million), in order to fund a railway project and replenish working capital.
Guanghui Energy in particular took market participants aback with its preemptive move. Before that, high hopes were held for the big four state-owned commercial banks and Shanghai Pudong Development Bank.
Without a doubt, Guanghui Energy will stand to benefit greatly from such a massive financing action. However, investors who initially felt like testing the water are not satisfied with what's on offer.
The 5 billion yuan ($800.5 million) raised accounts for 48.92 percent of the company's net assets at the end of the first quarter, almost reaching the 50-percent upper limit. Moreover, 3.5 billion yuan ($560.35 million) will be used to replenish Guanghui's working capital, which has aroused criticism concerning money encirclement and the company fulfilling its cash flow gap.
In addition, the floating dividend rate is unable to secure a return on investment, and without call provisions, the company can transfer risks to investors by reducing the payment of stock dividend.
In retaliation, shareholders began to dump the shares of Guanghui Energy. As a result, on April 28, its shares registered a limit down.
Wang Yong, an analyst with CITIC Securities Co. Ltd., argued that the company's plan to issue preferred stocks seemed more focused on money encirclement than financing.
Established in 1999, Guanghui Energy is a large privately owned energy company in west China. It is mainly engaged in natural gas and coal businesses and was listed on the Shanghai Stock Exchange in May 2000.
According to its financial report in the first quarter, by the end of March, its asset-liability ratio had stood at 66.8 percent, approaching the 70-percent alarm level.
At the same time, its short-term loans reached 6.07 billion yuan ($971.81 million) and debts payable hit 2.53 billion yuan ($405.05 million), a record high in the history of its public listing. Factoring in other accounts payable, its liabilities amounted to 9.79 billion yuan ($1.57 billion). By paralleling it with the 5.16 billion yuan ($826.12 million) of its monetary capital and accounts receivable in the first quarter, a financial gap as huge as 4.62 billion yuan ($739.66 million) can be envisaged, which indicates a weakness in debt-paying ability and cash flow.