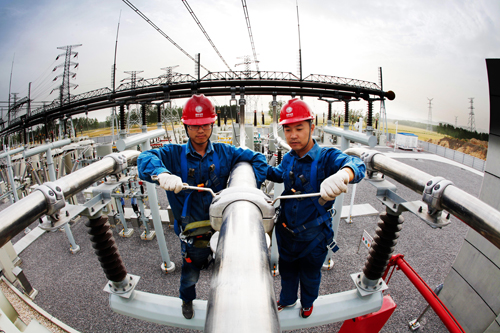 GRID CONNECTION: Workers from Shandong Power Transmission and Transformation Co. conduct a safety check on an intelligent substation before it is put into operation on May 25 (TIAN SHICHAO)
On May 20, the State Council approved and forwarded the Key Tasks for Deepening Economic Structural Reforms in 2014 released by the National Development and Reform Commission, mapping out the route for the newly initiated cause.
The key tasks imply that a priority has been given to stabilizing growth, restructuring the economy and improving people's overall livelihood, said Wang Jun, an expert with China Center for International Economic Exchanges.
Key points
China's economic development has shown signs of slowing down. Despite the fact that all the possible barriers obstructing sustainable growth have been included into the overall planning drawn up by the Central Government, there are concerns over how exactly to carry out the reforms.
The Key Tasks represents an answer to public concerns. According to the document, the transformation of government functions tops the agenda. The government should reduce administrative procedures, and establish a power list system, which requires the government publish a list of areas over which it has oversight and pledge not to intervene in areas which it does not hold power. In addition, the practice of "negative lists" should be widely adopted to manage market access, making sure that market participants can do whatever the law doesn't forbid.
"The essence of economic structural reform is to balance the relationship between the government and the market and let the market play a decisive role in allocating resources, or more specifically, reduce administrative intervention," said Wang.
Another main point is the liberalization of all competitive fields. According to the Key Tasks, efforts will be made to correctly position state-owned enterprises, to push forward reforms in sectors like telecommunications, power, petroleum and natural gas, while, at the same time, respecting the law of market economy, and giving larger play to private capital.
Obviously, the Central Government has set its mind on leading social capital into more sectors to revitalize the economy, said Wang. Today, the monopoly in telecommunications, power and petroleum industries has severely hindered innovation and efficiency, and voices for change have become louder and louder.
Wang said mixed ownership will be promoted to unleash the full potential of all competitive fields. The Key Tasks have made plain that except for those industries tied to national security, state-owned capital should make way for its private counterpart, thus allowing it to play a greater role in the market.