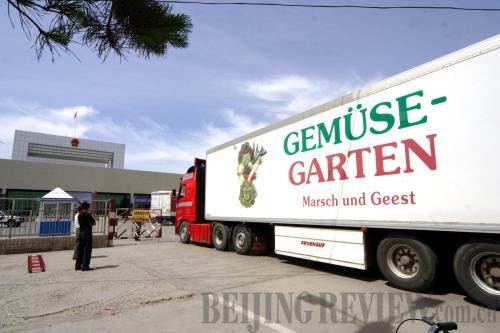 BUSY BORDER: A container truck full of goods waits to pass through the borderline between China and Kazakhstan in Horgos, Xinjiang Uygur Autonomous Region, on May 26, 2008 (CFP)
Rakhat, a Kazakh chocolate brand, tapestries of Akhal-teke horses and Turkmenistan's traditional handicrafts were just some of the exotic products from Central Asian countries catching the eye of many a Chinese visitor at the first Silk Road International Exposition held in Xi'an, capital of northwest China's Shaanxi Province between May 23 and 26.
"A major aim of the silk road expo is to implement the concept of jointly building an economic belt along the ancient Silk Road, which was proposed by Chinese President Xi Jinping when he paid a visit to Kazakhstan last September," Lou Qinjian, Governor of Shaanxi, said at the opening ceremony of the expo. During the four-day event, Chinese exhibitors signed contracts totaling $5.07 billion in value with foreign partners, according to the expo's organizing committee.
President Xi's proposal of building the Silk Road Economic Belt has created a new impetus spurring China's western regions to facilitate trade and investment with Central Asian countries. Now government work centered on building the Silk Road Economic Belt has begun in Shaanxi and other regions of west China, Governor Lou announced at a press conference in Xi'an on May 21.
Convenient transportation
Xi'an, the starting point of the ancient Silk Road, continues to act as an important transportation hub that connects the developed coastal areas to the vast and resourceful west in China. At present, 17 national expressways pass through the province, and Xi'an has become one of the top eight railway and aviation hubs in China, Governor Lou said.
Transportation underpins the construction of the economic belt. At the end of last November, the Chang'an International Freight Train heading to Central Asian countries was put into use. The regular freight train, numbered Sino-European Express 80001, sets off from Xi'an International Logistics and Trade Park and crosses the China-Kazakhstan border at Alataw Pass in Xinjiang Uygur Autonomous Region, before stopping at nine locations in Kazakhstan, Kyrgyzstan, Uzbekistan and Turkmenistan.
The successful launch of the "Chang'an" train is an important move for Shaanxi in boosting trade with Central Asian countries, said Han Song, Vice Mayor of Xi'an.
China is the biggest trade partner of Kazakhstan. Xi'an's trade with Kazakhstan alone reached $24 million in 2013. Most cargo from China to Kazakhstan is transported by road. The whole journey from Xi'an to Almaty is 3,866 km long. According to Han, with the Chang'an train, it takes a mere five days to complete a cargo delivery, which will save time and money compared with road transportation.
In the near future, the train's schedule will be expanded to four shifts per month from the present two shifts so as to meet growing demand, Han said.
What's more, the Chang'an freight train makes it possible to transport cargos from Xi'an to as far as Rotterdam in Holland in West Europe by railway. When that time comes, the freight train will bring more business opportunities to countries along the Silk Road on the Eurasian continent, Han said.
Gansu Province and Xinjiang are also catching up with the fast-expanding high-speed rail networks spreading across China.
On June 3, the trial run for the high-speed railway linking Lanzhou, capital of Gansu, with Urumqi, capital of Xinjiang, was launched, marking a countdown to formal operations by the end of the year.
With the new high-speed railway, travel time between Lanzhou and Urumqi will be cut from the current 21 hours to eight hours or less. When it is opened, the existent railway will be mainly used for freight.
At the end of 2013, a passenger railway line from Urumqi to Horgos, a land port in Xinjiang, was put into operation.
As a result, the railway network from Xi'an to the border areas in Xinjiang is expected to boost trade in the future.
Inland ports
Alataw Pass and Horgos are major ports on the border of China and Kazakhstan.
Alataw Pass, the country's largest land port, has witnessed the export of Chinese-made food, textiles, garments, shoes, building materials and engineering machinery, as well as imports of rolled steel, crude oil and chemical products from central Asian countries since it commenced operations in 1990.
Last year, it handled 29.83 million tons of imports and exports, valued at $17.43 billion, and it reported 11.72 billion yuan ($1.88 billion) in customs tax revenue, according to statistics from the local government.
In 2011, Xinjiang began to establish the region's first bonded zone at Alataw Pass. Currently, the bonded zone is still under construction.