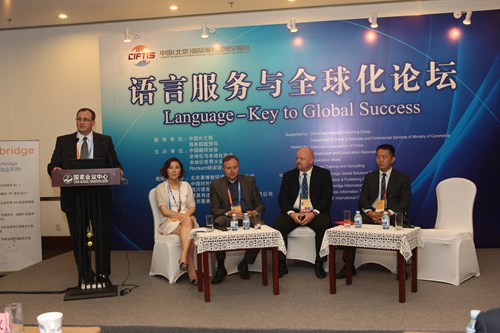 INTERNATIONAL VIEWS: Corporate executives and scholars exchange their opinions at the Language—Key to Global Success Forum in Beijing on May 29 (DONG NING)
In an era of globalization, the language service industry has become an indispensable support factor for cross-border trade and corporate overseas expansion.
In fact, the language service industry has far exceeded the scope of translation and interpretation and become a major part of the global industrial chain. "Countries that want to grow powerful have to energetically develop language services, which can speed up economic transformation, strengthen their capacity for cultural transmission and facilitate the expansion of trade and investment," said Lu Jijian, Deputy Director General of the Department of Trade in Services and Commercial Services at the Ministry of Commerce, at a recent industry forum.
The forum, entitled Language—Key to Global Success, was held on May 29 at the Third China Beijing International Fair for Trade in Services. It was sponsored by the Translators Association of China, along with the Globalization and Localization Association, the Localization World, a leading conference dedicated to the language and localization industries, and Rockant Training and Consulting Co., an American company specialized in localization consulting and training for managers of international programs, products and services.
"The forum serves as a platform for both language service providers and consumers to exchange views, promote the latest technologies and the results of scientific research, and learn from the frontrunners," said Wang Gangyi, Vice President of the China International Publishing Group.
Language service, as an emerging industry, was first put forward at the 2010 China International Language Industry Conference. At the event, Guo Xiaoyong, First Executive Vice President of the Translators Association of China, said, "The drive for globalization and the rapid development of information technology have given birth to a new trade­—language service, which has integrated translation, localization, language technology, multilingual consulting and language training."
The development of language services was first initiated by the implementation of China's reform and opening-up policy starting in the late 1970s, and has entered a period of high-speed growth since China's entry into the World Trade Organization in 2001. Statistics from the Translators Association of China show that the number of companies which include language services in their business scope surged from 16 in 1980 to 37,197 in 2011, representing the accumulation of an annual increase of 30.3 percent year on year.
It has been predicted that by the end of 2015, the annual output value of language service providers will amount to 260 billion yuan ($41.78 billion). More than 2 million people will engage in the trade, and the number of companies which include language services in their business scope will surpass 60,000, according to the 2012 Report on China's Language Services Industry.
Sustainable development
However, the majority of such enterprises are small and they are incapable of innovating their technologies and business models, said Wang. A majority of language service companies are engaged in similar translation and interpretation businesses and compete with each other in the low-end market, leading to the downgrading of the general strength of China's language service companies, the 2012 Report on China's Language Services Industry suggested.
Former Chancellor of the Federal Republic of Germany Willy Brandt once said, "If I am selling to you, I speak your language. If I am buying, dann müssen sie Deutsch sprechen [you have to speak German]." In international trade, speaking the buyer's mother language can make them feel respected and valued, which also reflects the significance of localization.
"Localization is the most effective driver for business," said Andrew Lawless, President of Rockant Training and Consulting Co.
"People do not buy what you do, they buy why you do it," Lawless noted . He gave Apple Inc. as an example. He claimed the popular electronics maker has the same knowledge, technical workforce and consultants as other computer makers have, and uses the same media to promote its products in the market. According to him, the secret to why Apple is much more successful than its rivals lies in the company's concept of doing business.