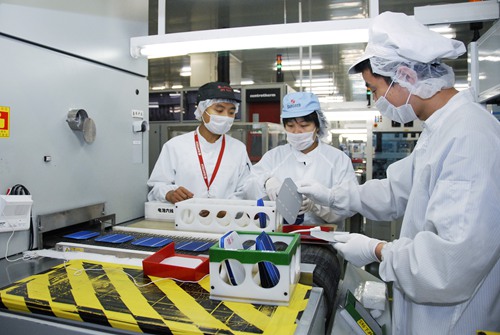 AT FULL STEAM: Workers assemble solar cells in a workshop of Suntech Power, a leading firm in China's solar industry headquartered in Wuxi of east China's Jiangsu Province (HU HAICHUAN)
China's PV industry questioned the preliminary decision and pledged to fight it to the bitter end. They also called for the two countries to solve the disputes through negotiations.
Chen Huiqing, Director of the Legal Department at the China Chamber of Commerce for Import and Export of Machinery and Electronic Products (CCCME), said the CCCME is actively organizing enterprises to defend themselves. However, once the United States decides to add new tariffs and the duty rates are set high, Chinese companies will be forced to leave the U.S. market, she said.
"It's totally unfair to levy a 35-percent anti-subsidy duty on Suntech. Suntech has never received any subsidies from the Chinese Government. The high-quality and low-price PV components that we produce are a result of economies of scale and a good supply chain," said Luo Xin, CEO of Suntech Power, a leading PV maker in China.
Fan Zhenhua, Legal Director of Yingli Solar, the world's largest solar panel manufacturer, said the company regrets the U.S. Department of Commerce's decision to levy punitive duties disregarding Chinese firms' reasonable demands and opposition.
Yingli Solar, which is headquartered in Baoding, north China's Hebei Province, will coordinate with the government and the industry association to prepare an appeal against the duties, Fan said.
The preliminary decision represents a big victory for SolarWorld and other U.S. PV makers. However, there are a lot of complaints stateside as many believe imposing import duties will only push up the cost of solar power and hinder the country's progress in developing solar energy applications.
"The ruling is a major setback for the entire U.S. solar industry because it will immediately increase the price of solar power and cost American jobs in one of fastest-growing sectors of the U.S. economy," said the Coalition for Affordable Solar Energy.
Rhone Resch, President and CEO of the U.S. Solar Energy Industries Association, called for all parties concerned to solve the disputes through negotiations before the entire industry is hurt.
"These damaging tariffs will increase costs for U.S. solar consumers and, in turn, slow the adoption of solar with the United States," he said. "It's time to end this needless litigation with a negotiated solution that addresses SolarWorld's trade allegations while ensuring the continued growth of the U.S. solar market."