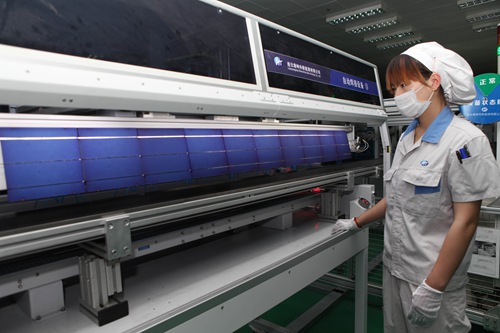 A TROUBLED INDUSTRY: A worker checks solar panels that are to be exported to the EU and the United States in a photovoltaic factory in Lianyungang, east China's Jiangsu Province, on May 21 (SI WEI)
The ripple effect
The one thing that worries China most is that more such investigations will come following the U.S. action, echoing what happened after the first round of anti-dumping and anti-subsidy investigations by the United States in 2012.
On June 6, EU ProSun, a joint initiative of members of the EU solar industry, handed in a document to the European Commission, accusing Chinese makers of breaking the minimum set price that the two countries agreed on in a trade settlement last August.
To date, many Chinese PV makers concerned have denied the accusation, calling it "false and absurd." However, this may herald the start of yet another trade row between China and the EU.
Ever since the United States levied punitive duties on solar imports from China in 2012, countries or regions including India, Australia, Japan and the EU have followed suit in launching similar investigations.
"MOFCOM and PV makers should actively respond to U.S. investigations and deal with the conundrum," said Zhao Yuwen, Vice Chairman of China Renewable Energy Industry Association. "Although the U.S. investigation won't have as much impact as the EU investigation, it still needs to be treated very carefully to avoid negative consequences."
"The U.S. market is always the barometer of industrial policies. Any U.S. action in the PV industry can easily lead other countries to emulate them. Chinese companies should be highly alert of ensuing investigations from the EU, India or Australia," said Ren, a researcher at Shenzhen-based industry research company CIConsulting.
Ren predicted PV exports to the United States will only account for 6 to 7 percent of total exports after the investigation, compared to the current 9 to 10 percent.
So, why is China's PV industry a frequent target of such investigations?
Qian Jing, Brand Director of Jinko Solar, said the main reason is that while the key technology of solar products have been widely disseminated across the world, the low-cost advantage in the market is in the hands of Chinese.
"As opposed to other manufacturing sectors, every country started developing their solar sector almost at the same time. The sudden boom of Chinese PV makers posed a great threat to foreign competitors," said Shi Dinghuan, Chairman of the China Renewable Energy Industry Association. "However, China's advantage only lies in the manufacturing end while the raw material is imported from other countries. In no way does China have a monopoly over the whole industry."
Also, trade disputes are highly unlikely to be avoided amid global economic instability. Such disputes can sometimes serve to support domestic industries and in some cases, can even be used as political leverage, analysts say.