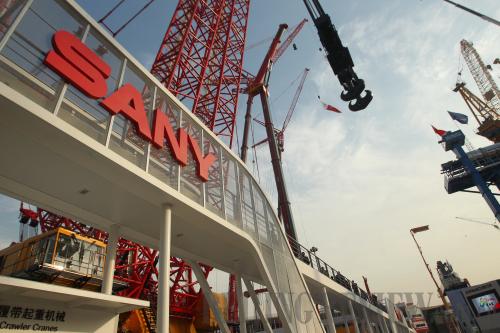 COMING OUT ON TOP: Construction equipment belonging to Sany Heavy Industry Co. Ltd. are displayed during the 2012 Shanghai International Trade Fair for Construction Machinery, Building Material Machines, Construction Vehicles and Equipment (REN YUMING)
"Sany wins the case against U.S. President Obama in the U.S Court of Appeals!" Xiang Wenbo, President of Sany Heavy Industry Co. Ltd., exclaimed on his Weibo account, China's answer to Twitter, on the morning of July 16.
At the media briefing held by Sany in Beijing on July 19, Xiang said that if the Obama administration now gives up on the appeals process, Sany will enjoy the last laugh.
"From the moment that the federal appeal court made the ruling, President Obama's ban on the project became invalid, which means Sany has achieved a consummate victory," Tim Tingkang Xia, an attorney for Sany said at the media briefing.
On July 15, the U.S. Court of Appeals for the District of Columbia Circuit ruled that the U.S. Government violated the rights of Ralls Corp., which is owned by machinery giant Sany, when it reviewed the company's purchase of several wind farm projects near a naval weapons training facility in Oregon. This will hopefully see an end to a case which has lasted almost two years.
In September 2012, U.S. President Barack Obama issued a presidential order to prevent Ralls Corp. from buying the wind farms in Oregon, citing national security risks. Obama's presidential order followed a recommendation from the Committee on Foreign Investment in the United States (CFIUS), an inter-agency committee headed by the U.S. Treasury Secretary that reviews attempts by foreign companies to purchase U.S. businesses. It was the first time a U.S. president had exercised the right to nullify a foreign acquisition for security reasons in the past two decades.
Xiang said there are three possibilities following the ruling: If CFIUS and Obama decide not to appeal, Sany will win the case; if CFIUS and Obama appeal, Sany will also continue their pursuit; and it cannot be ruled out that lawyers from both sides will strike a deal and end the logjam.
Sany may continue with the Oregon wind farm purchase, transfer their ownership to another party, or purchase wind farms in different locations, said Xiang, adding that a final decision has yet to be made.
A point of attack
Ralls Corp. immediately sued Obama in October 2012 for blocking the deal, claiming that the order exceeded the President's constitutional rights and that the administration had failed to disclose detailed evidence.
"When making investment in the United States, Sany has completely complied with U.S. laws, and we did not and will never do anything detrimental to the national security of the United States," said Xiang.