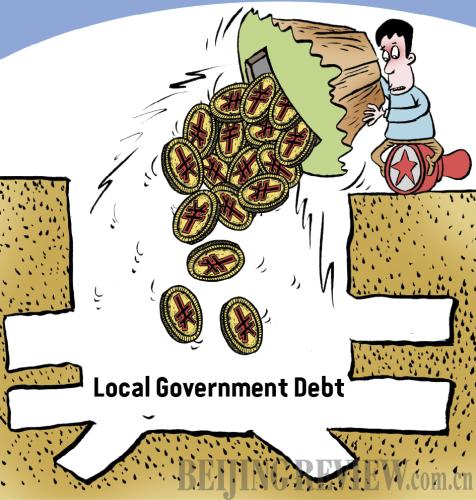 According to a report issued by the National Audit Office, local government debt in China had totaled 17.9 trillion yuan ($2.9 trillion) by the end of June 2013. Of this, local governments are responsible for repaying 10.89 trillion yuan ($1.76 trillion), which accounts for 61 percent. They also assume the liability of guarantee for 2.67 trillion yuan ($430 billion) and some liability of salvage for 4.34 trillion yuan ($700 billion), respectively.
Given the poor assessment, local government financing platforms are being squeezed. A financing platform is a venture established by a local government with state-owned assets to build infrastructure and support other projects.
Worse still, officials and economic scholars have warned that local governments will no longer be able to rely on revenues from the transfer of state-owned land use rights, due to dwindling land reserves and the trend of a cooling down property market across the country.
The increasingly real possibility of a huge shortage of funds leaves local governments with the thorny predicament of how they can raise much-needed capital to boost urbanization.
At present, a pilot program for issuing government bonds is underway, and some better-managed bond financing models have emerged to replace traditional local government financing platforms.
Huge gap to fill
In May, the State Council, China's cabinet, approved a plan for deepening economic restructuring in 2014, worked out by the National Development and Reform Commission (NDRC). According to the document, the financing system for local governments will be regulated and local governments will be prohibited from borrowing through their financing platforms.
The aim of the NDRC's document is very clear: Preventing irregular practices of local government financing platforms while giving the green light to municipal bonds.
On May 22, the Ministry of Finance (MOF) announced its move to allow 10 designated local governments to issue and redeem their own bonds within a pilot program. The program involves eight provincial-level governments of Beijing, Shanghai, Zhejiang, Guangdong, Jiangsu, Shandong, Jiangxi and Ningxia. Shenzhen in Guangdong and Qingdao in Shandong are also participating.
"Letting local governments issue and redeem their own bonds will be conducive not only to reducing financing costs for local governments, but also to extending the term of debt and improving the problem of maturity mismatch," said Huo Zhihui, Vice General Manager of the Rating Department of China Credit Rating Co. Ltd. "Hence it will be a key measure toward regulating the financing system for local governments."
Huo thinks there will be a growing trend of local governments directly issuing general obligation bonds in the future, but for the short term at least, the size of such bonds will remain small. For the remainder of 2014, the 10 local governments participating in the pilot have been assigned quotas to issue municipal bonds worth 109.2 billion yuan ($17.67 billion), accounting for 13.18 percent of the combined volume of bonds issued by all local government financing platforms in 2013.