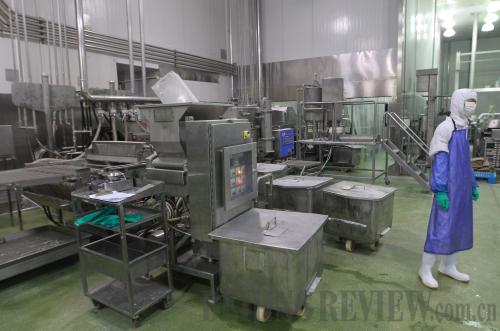 COMING TO A HALT: Production in Shanghai Husi Food Co. Ltd. has been suspended since July 20 (PEI XIN)
At 7:30 p.m. on July 20, shortly after the program was aired, investigators from Shanghai Municipal Food and Drug Administration (Shanghai FDA) arrived at Shanghai Husi Food.
Law enforcement personnel ordered the company to suspend production, and confiscated all paper and electronic production records, as well as all ingredients and finished products in the warehouses. They also questioned staff and talked to the head of OSI China.
Meanwhile, the Shanghai FDA launched an all-out inspection on meat producers and fast food chains in the city and demanded fast food chains remove any potentially contaminated or affected products from their shelves.
On July 22, the food and drug safety watchdog released its preliminary investigation report, saying that Shanghai Husi Food was suspected of illicit production. It had talked to 22 fast food companies and found that the problematic products had been supplied to nine of them. The authority already seized five batches of meat products containing a total of 5,108 boxes including chicken nuggets, veal chops and meat pies. Seized products weighed approximately 100 tons in total.
Gu Zhenhua, Deputy Director of Shanghai FDA, said that they found some of the company's malpractices were not the choice of any single individual, but instead were that of the management.
On July 26, the Shanghai FDA released updated investigation results. As of July 25, it had inspected 1,181 companies producing or selling food, and seized 144.1 tons of tainted products in total.
In addition, the Shanghai FDA revealed that it had also found new evidence showing Shanghai Husi Food changed the production date of around 32 tons of meat pies in 4,396 boxes from May 2013 to January 2014. The meat pies expired in February 2014, but by July 26, approximately three quarters of them had been sold, mostly to buyers out of Shanghai.
Shanghai Husi Food's quality manager told the Shanghai FDA that using expired ingredients had been the company's policy for years, and the practice was permitted by the company's top executives.
Dragon TV's reporters found that the company kept two sets of production records, with one for internal use and another one containing tampered data for external use.
On July 23, Shanghai police detained five people at Shanghai Husi Food, including a top executive and a quality manager.
Food and drug administrations in other places of China have also beefed up safety inspection.
According to the Zhejiang Food and Drug Administration, as of July 22, 48 tons of tainted food materials had been removed from McDonald's and Pizza Hut franchises in the province and sealed up. No KFC restaurants in the province used meat supplied by Shanghai Husi Food.
That same day, a total of 10.23 tons of problematic products were found in Sichuan Province, according to the Sichuan Food and Drug Administration.
On July 23, Guangdong's Pizza Hut and Burger King restaurants respectively sealed up 23.59 tons and 4.02 tons of expired products containing meat supplied by Shanghai Husi Food, according to the Guangdong Food and Drug Administration.
Problematic meat products were also discovered in some other provinces such as Shandong and Gansu, but the amount was comparatively smaller.
The Beijing Food and Drug Administration also demanded all fast food chains in the city immediately intercept or quarantine all food materials produced by Shanghai Husi Food. Starting July 22, the Beijing authority tightened supervision over more than 2,000 chain food and beverage companies in the city, as reported by Beijing Times.