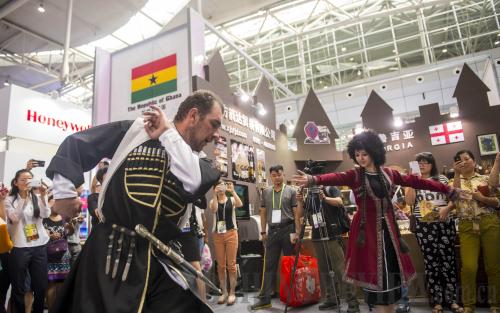 ART SHOW: Dancers from Georgia perform in a hall of the China-Eurasia Expo on September 3 (JIANG WENYAO)
Wine and handicrafts made in Georgia helped the South Eurasian country draw attention to its pavilion in the fourth session of the China-Eurasia Expo, which was held in Urumqi, capital of northwest China's Xinjiang Uygur Autonomous Region, on September 1-6.
"At the first China-Eurasia Expo [in 2011], the Georgian pavilion was tucked away in a small corner where few would notice it; now the pavilion is more than three times the size of the first one," said Tong Jiansheng, General Manager of Xinjiang Beifangjianda Trade Co. Ltd., which mainly imports wine from Georgia.
Tong revealed that Georgian wineries have received plenty of orders from participating in China-Eurasia expos.
This year's China-Eurasia Expo, with the theme "Building the Silk Road Economic Belt Through Opening Up and Cooperation," gathers more than 1,200 companies from 60 countries and regions from the world's six continents.
Unleashed potential
The Silk Road Economic Belt, an idea proposed by Chinese President Xi Jinping in September 2013, aims for cultural revival of the Silk Road, which historically linked China with Central Asia and Europe, as a way of developing political and economic ties.
"We are ready to work with other countries along the Silk Road Economic Belt to open more business cooperation zones and cross-border economic cooperation zones in order to provide an enabling environment for the development of industrial clusters," said Chinese Vice Premier Wang Yang when delivering a keynote speech at the expo's opening ceremony.
Wang said that the argument for building the Silk Road Economic Belt is rooted in history and oriented toward the future. "The ancient Silk Road ran along a miraculous stretch of land, a land of abundance, diverse ethnic groups and brilliant civilizations," he noted. "This area, with more than 50 countries and 3.8 billion people, is one of the most promising regions in the world. As long as we take a long-term perspective and work in unison, we will make the pie of regional economic cooperation bigger."
"The Silk Road Economic Belt has injected vitality into regional cooperation in Eurasia. The expo will help drive such cooperation further and contribute to common development," said Li Jinzao, China's Vice Minister of Commerce, at the opening ceremony.
Xinjiang, China's largest provincial-level region, covers an area of 1.66 million square km, three times the size of France. It connects Russia, Mongolia, Kazakhstan, Kyrgyzstan, Tajikistan, India and Pakistan, with a borderline extending 5,600 km, giving it easy access to markets in the Eurasian heartland. Urumqi is where the Silk Road once threaded through.
The region is sparing no efforts in building itself into a core hub of transportation, trade, finance, culture and healthcare services along the Silk Road Economic Belt, said Zhang Chunxian, Xinjiang's Party chief, adding that the region is willing to work with countries in Eurasia to reach common prosperity.
At the end of this year, Xinjiang's first high-speed railway will be put into use. The new line will be used only as a passenger line, sparing existing railway transport capacity to make it more convenient for bulk commodities to be sent out of Xinjiang, according to the project's plan.
The high-speed line will greatly improve Xinjiang's transport capabilities to Central Asian and European countries and strengthen its role of being the transportation hub along the Silk Road Economic Belt, said Erkin Tuniyaz, Vice Chairman of the Xinjiang Regional Government.