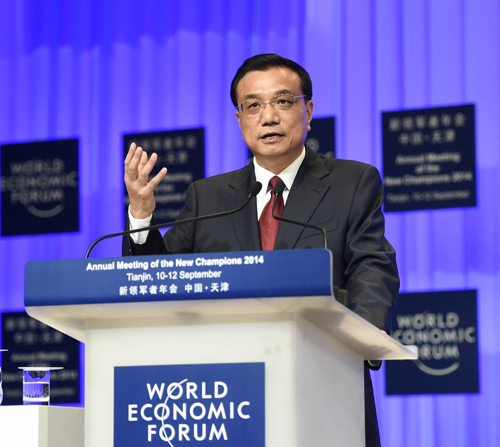 A GATHERING OF NEW CHAMPIONS: Premier Li Keqiang gives a speech at the opening ceremony of the eighth Summer Davos in Tianjin Meijiang Convention Center on September 10 (LI XUEREN)
Inside a gargantuan wave-roof building in Tianjin, a coastal city in north China that combines Chinese and Western elements, political leaders, business elites and economists from all over the world recently spoke their minds on economic issues that have generated plenty of public concern. This was the host venue of the World Economic Forum's Annual Meeting of the New Champions 2014, also known as the Summer Davos, which ran from September 10 to 12. With the theme of Creating Value Through Innovation, the forum concentrated on the ongoing and upcoming changes confronted by the global economy, especially the Chinese economy.
"Innovation is vital to the steady recovery of the world economy. It's also essential to upgrading the Chinese economy and improving its performance," said Chinese Premier Li Keqiang at the opening ceremony on September 10, attributing China's steady and sound growth in recent years to reform and innovation.
As the global economy continues recovering at a fairly moderate pace, almost 90 percent of the emerging market had witnessed a slowed growth in the past 18 months, according to Zhu Min, Deputy Managing Director of the International Monetary Fund. In the first half of the year, the Chinese economy registered a 7.4-percent growth rate, close to the 7.5-percent target and still within the proper range.
Despite a slowdown in economic growth, from January to August this year, the registered unemployment rate stayed at around 5 percent in 31 large and medium-sized cities; more than 9.7 million urban jobs were created, which is 100,000 more compared with the same period last year, according to Premier Li.
After three decades of explosive growth, the once miracle maker now seems to have entered a period of transition. "As the old two engines of growth—export and real estate–are gradually phasing out, new ones are coming in, which explains the current economic slowdown," noted Li Daokui, Dean of the Schwarzman Scholars Program at Tsinghua University.
As a matter of fact, the Chinese Government has launched several policies in hopes of spurring structural upgrading, ranging from streamlining administration and delegating powers to the lower levels, to adopting measures such as cutting the reserve requirement ratio for certain banks and reducing taxation on small and micro-businesses.
"The current slowdown is temporary. Now, the Chinese economy is going through a U-shift adjustment. If the reforms are successfully carried out, GDP growth will be able to recover a little bit," said Li, arguing that China's GDP is only equivalent to 19 percent of that of the United States, posing tremendous potential for further growth.