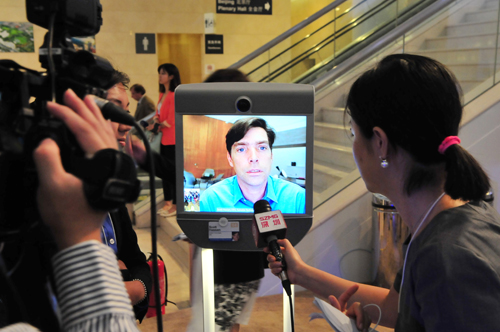 FACE TO FACE: A journalist interviews a telepresence robot named Beam, who attended the 2014 Summer Davos in Tianjin on behalf of CEO and founder of Suitable Technologies Scott Hassan from California, on September 11 (CFP)
Opening wider
Anti-trust probes into foreign companies such as Microsoft, Qualcomm and Audi have sparked some criticisms over possible discrimination by Chinese authorities. However, statistics show that since China's Anti-Monopoly Law went into effect on August 1, 2008, the number of foreign enterprises investigated has only accounted for 10 percent of the total.
"China opposes protectionism in all its forms or any trade war and advocates the building of an open, fair and integrated global market," said Premier Li, confirming that China will continue to pursue a more proactive strategy of opening up.
Klaus Kleinfeld, Chairman of Aluminum Co. of America, said Premier Li's speech helped to dispel the worries of foreign corporate leaders and boosted their investment confidence over their future development in China.
"Since anti-monopoly is in the interests of consumers, it will exert a positive influence," said Li Zhen, President of E. J. McKay, a leading Chinese investment bank.
As one of the parties involved in the anti-trust torrent, Paul Jacobs, Executive Chairman of Qualcomm, also expressed the company's willingness to reach win-win cooperation with its Chinese partners. Given its constantly growing economy, strong consumer demand and abundant cooperation opportunities, China will continue topping the list of Qualcomm's overseas investment destinations.
In addition, to strike a balance between promoting economic development and opening up, China is trying to unveil a management model of pre-establishment national treatment plus a negative list by first carrying out a pilot test in China (Shanghai) Pilot Free Trade Zone.
Zhang Xiaoqiang, Vice Chairman of the China Center for International Economic Exchanges, suggested the new model is likely to shepherd more foreign investors into China's service industry.
"Overseas companies will find more opportunities on offer in a number of emerging industries, such as energy conservation and environment protection services, new energy and high technology," said Zhang.
Key Points of Premier Li's Speech
We will accelerate the pace of institutional innovation.
China's innovation involves not only technology but more institutional, management and growth models. China's reform and opening up for the past three decades and more has in itself been a huge driver of innovation, and the huge, untapped potential of innovation and development in the future still lies in institutional reform.
The government will continue taking the lead in conducting a "self-targeted revolution."
We will deepen the reform in the administrative approval system. We hope to complete the task of removing and delegating items subject to government approval, originally planned for five years, in a shorter period of time, so as to unleash the potential of the market and the driving force for development.
We should provide a list of government powers that defines the scope of what the government should do, so as to prevent the abuse of government power, reduce rent-seeking and ensure that the government better performs its duty of serving the people.
A negative list should be formulated that defines areas off-limits to businesses, so that we can build open and transparent systematic arrangements with stable expectations and bring about enterprises' vitality to the fullest extent.
We should also formulate a list of government responsibilities to define how the government should regulate the market, to build and sustain a market environment that favors honest operations and fair play, energizes businesses and encourages innovation and creativity.
We will step up science and technology innovation.
We will support and provide guarantee to certain sectors and curb and scale back some others, cultivate and promote new products and new businesses and speed up the development of service, hi-tech and emerging sectors.
We will phase out overcapacity, accelerate the transformation of traditional sectors and eliminate outdated capacity so that Chinese products and China's service sector can move up the global value chain and more value could be created through innovation.
We must invest more in human capital and increase the ranks of high-caliber workers. We will improve the technological sophistication, quality and brand awareness of Chinese industries. In particular, we need to step up reforms to remove restraints on innovation by individuals and companies.
We will promote a people-centered, new type of urbanization, which in itself is the biggest structural readjustment.
We will seize opportunities brought about by technological advances and global industrial revolution to speed up the development of such schemes as "broadband China" and "smart cities," leverage the role of cities across the country in galvanizing hinterland development, promote urban-rural integration and a gradient development of different regions and bring about a synchronized progress of the new type of industrialization, IT application, urbanization and agricultural modernization.
We will vigorously develop programs related to people's wellbeing, promote equal access to basic public services and strengthen social security, including providing security to those who failed in their entrepreneurial endeavor to help them restart businesses.
We will continue to increase household consumption and ensure that greater internal demand can serve as a new power to drive economic growth.
It is imperative for us to enhance energy conservation and environmental protection.
Tackling climate change is not only our binding international obligation as a responsible major country, but also a pressing need for our own development. We have declared war on pollution and earnestly fulfilled our due international responsibilities.
We are studying the action targets on greenhouse gas emissions control, including the peak of CO2 emission, the carbon emission intensity reduction and the increase in the share of non-fossil energy by 2030 and beyond.
(Source: Xinhua News Agency)
(Reporting from Tianjin)
Email us at: dengyaqing@bjreview.com