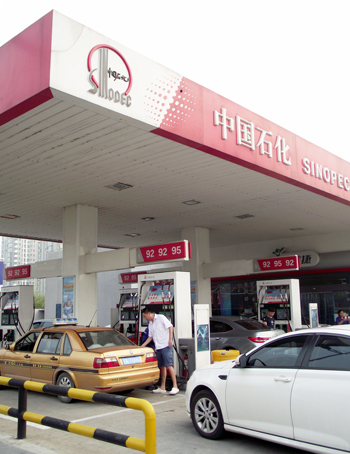 MORE THAN OIL: A customer fills up at a Sinopec gas station in Nanjing, Jiangsu Province (IC)
China Petroleum and Chemical Corp. (Sinopec), the country's largest petroleum refiner and oil product manufacturer, announced on September 12 that its wholly owned subsidiary Sinopec Marketing Co. has entered into a capital injection agreement with 25 domestic and foreign investors.
Pursuant to this deal, the investors will subscribe for a total 29.99-percent shareholding interest in Sinopec Marketing Co. for an aggregate amount of 107.09 billion yuan ($17.41 billion). Sinopec will hold the remaining 70.01 percent of the shares, according to the oil refiner.
Upon completion of the capital injection, the registered capital of Sinopec Marketing Co. will increase from 20 billion yuan ($3.25 billion) to 28.57 billion yuan ($4.65 billion).
According to Lu Dapeng, a spokesman for Sinopec, this represents the world's largest corporate acquisition so far this year. "The reorganization has formed a mixed equity structure consisting of state and private entities," said Lu.
The chosen few
The reorganization represents yet another milestone for Sinopec following its announcement in February of its decision to initiate the introduction of outside capital and the completion in April of the restructuring of its marketing division.
Ye Huiqing, chief accountant of Sinopec Marketing, said that these 25 investors have been selected via the taking into consideration of their quotes, industrial interaction and the amount of shares they intended to subscribe for.
According to the Sinopec announcement, the capital injection was administered with impartiality, fairness, openness and transparency. The company conducted multiple rounds of selection and competitive negotiation, allowing potential investors to evaluate Sinopec Marketing independently and to submit non-binding and binding offers based on the process.
For the purposes of the selection process, Sinopec and Sinopec Marketing jointly established an independent evaluation committee comprising independent directors, external supervisors and internal and external experts to conduct review and screening of the potential investors.
The committee considered the offering price and the proposed investment amount of each potential investor and gave priority to strategic investors, domestic investors, and investors who can provide benefits to the general public.
Among the 25 investors, nine are strategic industrial investors, investing a total of 32.69 billion yuan ($5.32 billion) and accounting for 30.5 percent of the investment. Twelve investors are Chinese companies, who will invest a total of 59 billion yuan ($9.59 billion), accounting for 55.1 percent of the total investment.
The four companies whose participation is held to be potentially beneficial to the public will invest 32 billion yuan ($5.2 billion), accounting for 29.9 percent of the total investment. Of the 25 companies, 11 are private companies, investing 38.29 billion yuan ($6.23 billion), accounting for 35.8 percent of the investment.
Lu thinks the above investors can derive benefits from at least three areas: obtaining a platform for more resources, receiving stable investment returns and realizing rapid business growth by combining with the existent brand, sales networks and clients of Sinopec.