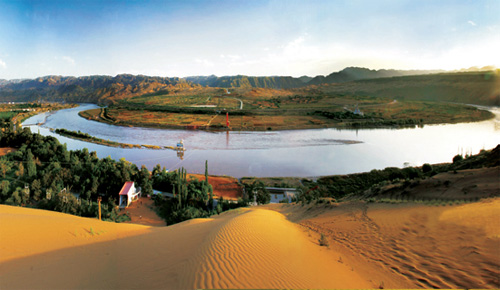 FROM DESERT TO GARDEN: Pictured is a landscape shot of Shapotou in Zhongwei, Ningxia Hui Autonomous Region (MA LI)
A mere decade ago, it was a dry and desolate land, home to waves of wind-dispersed dust causing desertification and widespread poverty. Fast-forward 10 years, Zhongwei and its tourist attraction Shapotou have suddenly become the recipient of newfound fame owing to its prominent inclusion on the TV show Where Are We Going, Dad?
Located at the meeting point of Ningxia, Inner Mongolia Autonomous Region and Gansu Province and on the southeastern edge of Tengger Desert, Zhongwei was once a stop on the ancient Silk Road.
This year marks the 10th anniversary of the establishment of Zhongwei City, which was approved by the State Council to be upgraded from a county to a prefecture-level city on April 28, 2004, in an effort to strengthen desertification control and to promote local economic development. Within the past decade, the city has gained 1,867 hectares of new green lots, with its forest coverage rate reaching 15.9 percent and 36.6 percent of the city being covered by the green lots. The industrial output value of the city rose from 2.88 billion yuan ($468.29 million) in 2004 to 40.63 billion yuan ($6.61 billion) in 2013, a 13.1-fold increase. Industrial value-added output of the city increased from 1.16 billion yuan ($188.62 million) in 2004 to 9.15 billion yuan ($1.49 billion) in 2013, up 6.9 times.
Zhongwei has transformed from a small remote county on the edge of a desert to a comfortable modern city suitable for living and working.
Lian Huaizhong, 43, a farmer in Heilin Village of Zhongwei, recalled that when he was in primary school, the sand beat the faces of his classmates so badly that many children went to school crying.
To improve the environment in the area, scientists and technicians entered Shapotou in the 1950s to research methods of controlling desertification. They invented a unique technology to prevent the spread of deserts—grass grids.
With this technology, deeply rooted grass is planted which is able to withstand sandstorms and thus can retard or prevent the expansion of deserts. It is considered a pioneering technology in the history of desertification management technology. However, for various reasons, this technology only widely came into use 10 years ago.
Today, at the photovoltaic industrial park on the edge of Tengger Desert, every piece of solar panel is fixed with grass, forming a new industry-friendly landscape in the desert.
Over the years, the government of Shapotou District has adopted various technologies to control desertification. Every year, officials from 20-30 countries and regions along the Silk Road Economic Belt come to Shapotou to learn about these technologies.
"The sandstorm threat is a major ecological problem faced by countries and regions along the Silk Road, and reducing sandstorms will therefore determine the success of ecological development in the Silk Road Economic Belt," said Li Xinrong, Director of Shapotou Desert Research & Experiment Station of the Chinese Academy of Sciences, who has been engaged in desertification control for more than 30 years.
Booming tourism
Remarkable achievements in the control of desertification have greatly boosted tourism in Shapotou. In recent years, by coordinating tourist services based around the local desert, the Yellow River and the area's wetland, Zhongwei has established a tourist industrial chain with Shapotou as a major attraction.
Thanks to a clean environment and convenient tourist services, tourism has become one of Zhongwei's specialties. In 2013, Zhongwei received 2.97 million tourists, earning a total revenue of 1.81 billion yuan ($294.5 million), accounting for 30 percent of the total of the autonomous region. The tourism industry has become a major factor in driving economic growth in Zhongwei. During the May Day holiday this year, Shapotou received 87,000 tourists, a year-on-year increase of 26.12 percent.