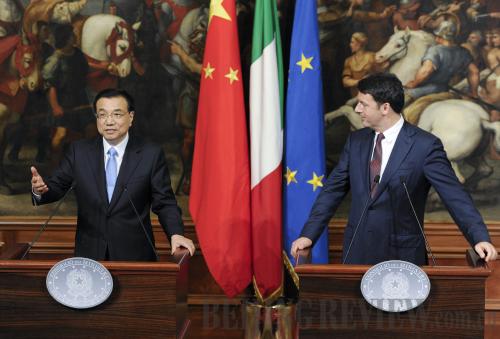 REACHING CONSENSUS: Chinese Premier Li Keqiang and his Italian counterpart Matteo Renzi attend a joint press conference in Rome on October 14 (CNSPHOTO)
China-EU ties
The 10th ASEM Summit in Milan on October 16-17 was an important multilateral diplomatic event for China this year. And it was the first time that Li has attended this biennial meeting.
The first ASEM Summit was held in Bangkok, Thailand, in 1996. It currently serves as the highest-level dialogue mechanism existent between Asia and Europe. Today, the meeting mechanism consists of 20 Asian states and 31 European states, which account for over half of the world economy and 60 percent of the global population.
As an original member state, China attaches importance to ASEM and has made a valuable contribution to the development of the mechanism. China regards it as an important platform for cementing diplomacy with neighboring countries, expanding cooperation space and maintaining good ties with both Asian and European countries.
The Chinese premier attended every ASEM summit. The country has put forward a good many practical proposals in successive meetings and it has held the most ministerial meetings of any member country.
Cui said that China hopes ASEM will not remain solely a multilateral forum and suggests it grow to be a permanent mechanism, playing a bigger role in promoting cooperation between Asia and Europe.
Li promoted China's proposal for building the Silk Road Economic Belt and the 21st-Century Maritime Silk Road with other countries at this year's ASEM Summit. China hopes the proposal can facilitate international cooperation, boost mutual trust, lift communication and transport conditions and promote an inclusive and sustainable development for Asian and European countries.
At the sixth Hamburg Summit of the China-Europe Forum on October 11, Li expounded on the Chinese Government's policies and views on domestic economic development, opening up and China-EU ties, which will encourage more EU investment in the Chinese market.
Li stressed that China will continue to open its doors to the outside world, providing more market opportunities. China will strive to lower market access thresholds, strengthen intellectual property rights protection, and create a fair, transparent and orderly market environment for foreign companies operating in the country.
Opening up is a foundation of cooperation and China's state policy. The opening up of the Chinese market will benefit not only China but also the rest of the world. Li's speech will enhance the confidence of EU entrepreneurs, said Mei Zhaorong, former Chinese Ambassador to Germany.
According to China's Ministry of Commerce, China is the second largest trading partner of the EU, which in turn has been the largest trading partner of China for 10 consecutive years. On average, the trade volume between China and the EU constitutes $1.5 billion every day.
China and the EU set a goal to reach $1 trillion in trade by 2020. The two sides issued the China-EU 2020 Strategic Agenda for Cooperation and launched negotiations on an investment agreement covering nearly 100 fields last year.
The EU plans to invest 50 billion euro ($64 billion) in transportation, energy and digital networks. China has a comparative advantage in high-speed railways and nuclear power technology, which could facilitate innovation cooperation between the two sides, Mei said.
When meeting with Prime Minister of Luxembourg Xavier Bettel prior to the Hamburg summit, Li said that China supports the establishment of an offshore RMB market in Luxembourg and the use of national currencies in the two-way trade and investment.
Email us at: baishi@bjreview.com