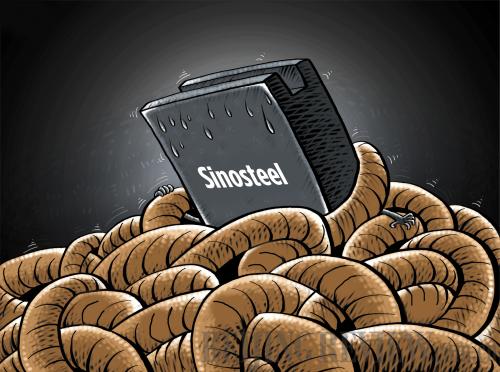 (CFP)
State-owned steel magnate Sinosteel Corp. has been cast under a shadow of conflict and conjecture, a situation which many industrial insiders have attributed to the poor performance of the company.
Recently, some media outlets reported that Sinosteel was facing default of 78 billion yuan ($12.7 billion) on loans from nine banks, and the State-owned Assets Supervision and Administration Commission of the State Council (SASAC) was likely to inject 20 billion yuan ($3.26 billion) in order to resuscitate the company.
Sinosteel and some banks were quick to deny these reports. On September 23, Zhang Zhixiang, a spokesman for Sinosteel, told China Securities Journal that the reports are not accurate. The spokesman claimed the company is facing financial problems as a result of unpaid bills from customers, but denied rumors that the company is straining under the weight of overdue loans amounting to 10 billion yuan ($1.63 billion).
Industrial and Commercial Bank of China (ICBC), one of the major lenders to Sinosteel, also issued a statement, saying that Sinosteel and its subsidiaries had not defaulted on its loan. Sinosteel's outstanding loans from ICBC accounted for less than 1.3 percent of the group's total financing raised from financial institutions.
Nonetheless, the market is fixated on discussing Sinosteel. "Although these are just rumors, they still reveal something about the performance of Sinosteel," an anonymous securities analyst told International Financial News. "It is unfortunate for Sinosteel, because it has inevitably been affected by the recession of the steel market, and no one likes to see a recession. But as a state-owned enterprise (SOE) administered by the Central Government, it must have foresight and new strategic determination.
On September 30, China Chengxin International Credit Rating Co. Ltd. issued a report, rating Sinosteel at AA-, and revising the outlook on the long-term rating on Sinosteel from stable to negative. The rating company says the revision was made because recent negative media reports on Sinosteel may affect the financing environment for the company and have negative impacts on the company's liquidity.
Persistent doubts
Ten years ago, it was inconceivable that a central SOE might be faced with the issue of its own survival. At the outset of 2008, the then-President of Sinosteel Huang Tianwen confidently made the claim that the company was likely to rank among the world's top 500 companies that year.
He wasn't bluffing. In 2009, true to Huang's predictions, Sinosteel entered the elite club of the Fortune Global 500 for the first time, ranking 372nd. In 2011, it climbed to 354th place.
Following this short burst of glory, however, niggling concerns on the company's market situation have refused to subside, with the focus being most commonly placed on its high debt ratio. By the end of 2013, Sinosteel had total assets of 110.1 billion yuan ($17.93 billion), while their debts amounted to 103.3 billion yuan ($16.82 billion), leaving the company with a debt ratio of 93.87 percent.
"The debt ratio of a well performing company should not be very high, never surpassing 70-80 percent. If the debt ratio is higher than that, the company can still maintain good sales revenue, but this is not the situation in Sinosteel," an anonymous deputy director of finance of a private company told International Financial News.
From 2010 to 2012, affected by the recession of the steel industry, Sinosteel suffered net losses for three consecutive years.
Even prior to 2008, the market was full of doubts on Sinosteel. At the end of that year, some media outlets reported that Sinosteel was forced to close the Channar iron project, a joint venture with Rio Tinto Group in Western Australia.
On December 12, 2008, Sinosteel issued a statement, emphasizing that Sinosteel's Channar project was maintaining normal operations, and that Sinosteel and its subsidiaries were not suffering losses.