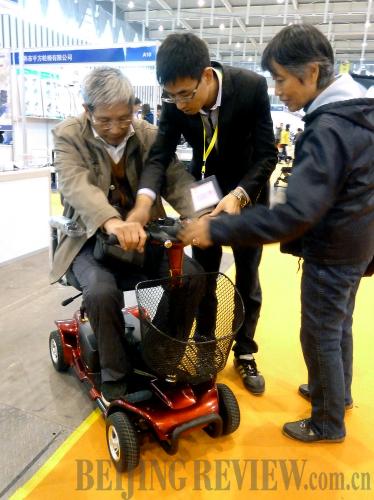 SILVER OPPORTUNITIES: A senior resident tries out an electric scooter at the Third International Expo for Senior Care Industry and Rehabilitation held in Nanjing, Jiangsu Province, in November 2013 (WANG LUXIAN)
The proportional growth of China's elderly population is projected to stimulate consumption of more than 100 trillion yuan ($16 trillion) over the next 35 years, according to the China Report on the Development of the Senior Care Industry released by the China Research Center on Aging (CRCA).
The report claims that China is now entering the primary stage of becoming an aging society, and in years to come will constitute the single largest product and service market for senior citizens in the world. A consumer base of this magnitude will attract huge amounts of capital to enter what has in China been dubbed the "silver hair" industry.
Growing market
It is estimated that by 2050, the world will have an elderly population totaling some 2.02 billion and nearly one quarter of them will live in China. From 2014 to 2050, the domestic market for providing services and products for the country's senior citizens will soar from 4 trillion yuan ($650.41 billion) to 106 trillion yuan ($17.24 trillion), and its contribution to GDP will rise from 8 percent to 33 percent.
According to the report, China's silver hair industry on the whole enjoys a sound policy environment for development. As market demand continues to grow, private investors are increasingly willing to take a gamble, bringing unprecedented growth opportunities to the industry. The market for home appliances designed for senior residents is flourishing, the sector of the services catering to senior citizens is fast becoming an investment hotspot and in real estate, the construction of housing for senior residents is rapidly on the rise.
The report, however, also claims China's silver hair industry is facing a glut of issues, including inadequate effective demand, an unbalanced industrial structure, slow rates of improvement in industrial organizations and uncertain industrial policies.
Against the backdrop of economic restructuring, transformation of government functions and strengthened government support, China's silver hair industry, as a basic pillar and strategic industry in an aging society, is both an integral part of the future macroeconomy of China and a strategic choice to address the challenges brought by the aging population.
"China must seize the opportunities for the development of the senior care industry, create effective rigid demand as far as possible and formulate policies to improve the industry as a matter of urgency," said Wu Yushao, Deputy Director of the China National Committee on Aging.
"It should also accelerate the development of industrial organizations, establish service networks for senior residents and set up national research and development bases for the industry," Wu added.
The silver hair industry comprises four major areas: financing, appliances, services and real estate.