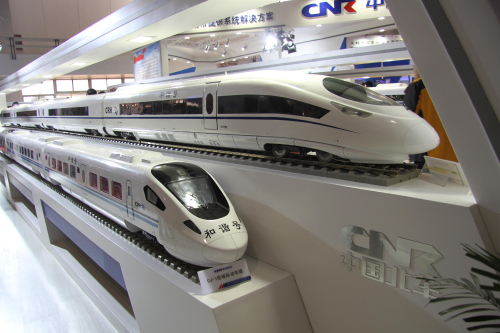 PROMOTING THE CHINESE BRAND: Models of bullet trains manufactured by CNR and CSR are displayed at the 12th Modern Railways, an exhibition for railway technology and equipment, which was opened in Beijing on October 28 (LIU XIANGUO)
As a Chinese proverb goes, if two brothers are of the same mind, their sharpness can cut through metal. Recently, China CNR Corp. Ltd. (CNR) and China CSR Corp. Ltd. (CSR), the world's two largest railway transportation equipment manufacturers, have decided to undergo a merger to compete in the global arena.
In recent years, as great progress has been made in China's high-speed railway and subway equipment industry, CNR and CSR have entered a period of explosive growth.
In China, the two giants now preside over the entire bullet train market, 80 percent of the freight train market and the bulk of the metro vehicle market. In the overseas market, the two are also gaining ground by virtue of reliable technologies, rich domestic operating experience and low prices.
According to the Worldwide Market for Railway Technology released by German railway transportation authority, the top seven manufacturers are CNR, CSR, Canada's Bombardier, Germany's Siemens, France's Alston, America's General Electric and Japan's Kawasaki. The sales revenue of CNR and CSR is equivalent to that of the rest of the other five railway transportation equipment manufacturers combined.
Both companies are capable of producing CRH380 high-speed trains, which have safely run more than 400 million km and been dubbed the champion of the top 10 high-speed trains in the world.
After finishing the impending merger, the new conglomerate, with estimated annual revenue of $33.6 billion and net profit of $1.44 billion, will pose a great challenge to Western rivals like Alston and Siemens.
Without a doubt, China has developed a whole set of sophisticated high-speed rail and train technologies and is prepared to promote the Chinese standard worldwide.
Competitiveness
CNR has exported its products to more than 90 countries and regions. In the first half of this year, CNR won overseas orders worth $1.54 billion, a year-on-year increase of 178.18 percent.
According to statistics from SCI Verkehr, a German leading strategic consultancy, CNR maintained the first place in the field of global railway transportation equipment in 2011, 2012 and 2013, accounting for 22.4 percent of the global subway vehicle market in the past five years.
On October 22, CNR MA, a joint venture between China Changchun Railway Vehicles Co. and CNR, won a $567-million contract to supply 284 rail cars for the city of Boston's subway system.
Although many global railway transportation equipment manufacturers, such as Canadian Bombardier and Japanese kawasaki Heavy Industries Group, competed for the order, CNR MA offered the lowest quotation among the six bidders, equivalent merely to little more than half of the quote made by Bombardier, according to the Massachusetts Department of Transportation.
In terms of manufacturing experience, product performance, quality and price, CNR's products, which can run 129,000 km per year with a service life of 30 years, are far ahead of other competitors.
In fact, as early as 2008, Shenyang Locomotive & Rolling Stock Co. Ltd. under CNR had established a joint venture with Wabtec Corp., focusing on the research and development of world-class railway braking products. Last year, CNR set up a welding structure research and development center with University of Michigan.
CSR has also fixed its eyes on the American market. Following CNR's good news in the United States, CSR announced that it has submitted an intention to bid to the California High-Speed Rail Authority to participate in the construction of its high-speed rail network. By the end of August, the value of overseas contracts signed by CSR had surpassed $3.5 billion, with its products exported to 84 countries and regions such as Australia, Singapore, India and South Africa.
Wang Mengshu, a tunnel and railway expert at the Chinese Academy of Engineering, said that the merger will eliminate "in-fighting" between the two in the exploration of the global market, improve the image of Chinese enterprises, facilitate technological innovation and boost international competition.
"Fourteen years ago, the then Ministry of Railways split the China National Railway Locomotive and Rolling Stock Industry Corp. into two separate companies to stimulate market competition. Now, China is competing with international railway transportation manufacturers, and the challenge in front is how to give a full play to its overall strength, promote the brand image of China's high-speed trains, and export the Chinese standard," said Sun Zhang, a railway expert at Tongji University.