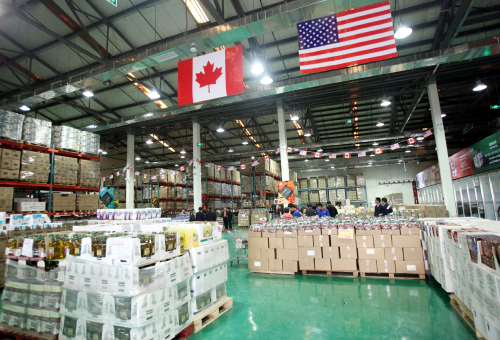 EASIER AND CHEAPER SHOPPING: People select goods at the demonstration base for cross-border e-commerce in the Tianjin Port Bonded Zone on October 28 (XINHUA)
"Tianjin FTZ will focus on international shipping and the city will become an international shipping center in north China," said Zhang Jianping, who also thinks the FTZ will play an enormous role in promoting the development of the private economy in Tianjin.
"The Tianjin FTZ will replicate some of Shanghai FTZ's successful reform measures but will also develop its own path for the facilitation and liberalization of investment and trade, because Tianjin has more state-owned enterprises than Shanghai, and development of its private economy, especially its modern service industry, lags far behind that of Shanghai," the source close to the Tianjin Municipal Government told AAStocks.
"A consensus has been reached that financial reforms in Tianjin FTZ won't attempt to completely replicate Shanghai's experience. Tianjin will emphasize on innovative financial measures such as offshore finance," another source close to the Tianjin Municipal Government told Shanghai Securities News under the condition of anonymity.
"Above all, each region should create its own version of FTZ according to local conditions," the source said.
More to come?
More than 20 provinces and cities prioritized the development of FTZs in their government work reports this year. Despite little possibility of success, some local governments have already cut red tape and pushed forward reforms in preparation for an application.
Experts have suggested the second batch of FTZs should have features distinct from Shanghai and from each other—homogeneous FTZs would mean a failure of the nationwide expansion. Some experts also cautioned against the over-development of FTZs throughout the country, adding that some cities' attempts to apply for favorable policies might run contrary to the original intention of FTZs.
Zhou Hanmin, Vice Chairman of the Shanghai Municipal Committee of the Chinese People's Political Consultative Conference, said that new FTZs should have their own distinctive functions aimed at pushing forward their own specific economic reforms and policies.
"Guangdong should focus on its economic cooperation with Hong Kong and Macao, and Fujian should focus on its ties with Taiwan, while Tianjin will mainly emphasize its role in the Silk Road Economic Belt," Zhou said.
Chen Bo, Deputy Director of the Research Center on Free Trade Zone under the Shanghai University of Finance and Economics, said if there is only one FTZ in China, people can't tell whether reforms are good enough or fast enough.
"That's why China needs more FTZs," Chen said. "Competition among FTZs will generate more efficiency. But it shouldn't lead to vicious competition. So it's okay to have several FTZs in China, but not too many."
"Shanghai FTZ will be the only one in the country that's a comprehensive FTZ, while new FTZs will be specialized in specific areas. For instance, Tianjin FTZ will focus on international shipping and financial lease," Chen said.
Zhang Li, a researcher with the CAITEC, said FTZ trials will push forward economic growth amid a nationwide economic slowdown and a lack of growth engines.
"Many regions want to use preferential policies of FTZs to lure foreign investment and promote local economic growth. This is the biggest benefit," Zhang Li said.
"From a national point of view, setting up FTZs represents an inevitable trend. China has three economic circles—the Yangtze River Delta, Pearl River Delta and Bohai Economic Rim, in line with the existent FTZ and possible future FTZs in Shanghai, Guangdong and Fujian and Tianjin," Zhang Li said. "Setting up FTZs in these regions will greatly lift regional economic growth."
Email us at: zhouxiaoyan@bjreview.com