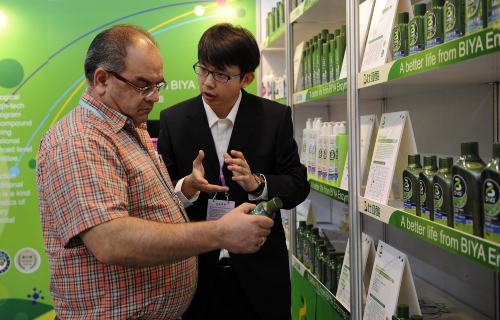 SMART MARKETING: A company representative introduces his products to a foreign buyer at the 116th Canton Fair (LIANG XU)
The 116th Canton Fair, a biannual international trade fair, raised alarms again about China's foreign trade development by registering a decline of both transactions and buyers during its three phases lasting from October 15 to November 4.
As Liu Jianjun, Director of China Foreign Trade Center, introduced, a total of 186,104 buyers from 211 countries and regions attended the autumn session. Attendance dropped 1.07 percent from the spring session of 2014; its volume of transaction reached 179.2 billion yuan ($29.16 billion), a decrease of 6.1 percent from the spring session. In addition, exports toward China's major trade partners including the European Union, the United States, Middle East, Brazil, Russia, India, South Africa and Japan witnessed a decline.
While Liu suggested that the current foreign trade situation should not be optimistic, some experts believe China's foreign trade sector has taken on a "new normal"—slow but steady growth. At the same time, the prosperity of cross-border e-commerce and comprehensive foreign trade platforms have posed a new challenge for traditional trade patterns.
"Enterprises should calm down and take the new normal objectively. For example, despite the fact that China's export of light industrial products has maintained two-digit growth in the past few years, it has lost the market foundation to experience dramatic expansion due to the rising factor cost in China and the limited market potential overseas," said Li Wenfeng, Deputy Director of China Chamber of Commerce for Import and Export of Light Industrial Products and Arts-Crafts.
Strong confidence
Although the Canton Fair experienced a double plummet of transactions and buyers, more than 90 percent of exhibitors chose to apply for booths this autumn, indicating that most Chinese foreign trade enterprises still maintain strong belief in the long-term development, said Liu.
According to Zhu Dan, Vice General Manager of Overseas Household Appliance Production Line of Hisense International Co. Ltd., Hisense exported 3.64 million televisions in the first half of this year, up 22.2 percent year on year, and exported 3.01 million refrigerators during the same period, up 18.8 percent. "Under the adverse international economic circumstances, Chinese-made products will have a better chance of success because of their high-quality performance and relatively low cost," said Zhu.
Vice Minister of Commerce Fang Aiqing noted that an array of policies has been released to reduce the burden on enterprises and vitalize the market, and more efforts will be made to facilitate the sustainable and stable growth of foreign trade.
Yu Yi, Deputy Director of China Chamber of Commerce of Metals, Minerals & Chemicals Importers & Exporters noted, in the current precarious international economic environment, the more proprietary intellectual property rights Chinese brands have, the less they are affected by the adversity.