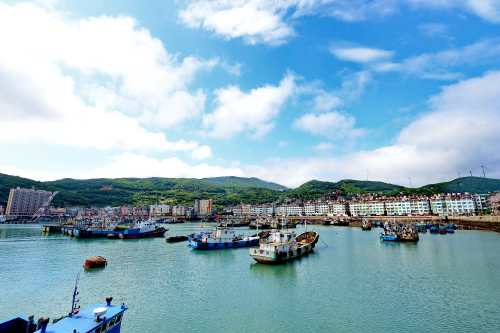 A CLEANER HOME: While developing marine economy, Fuzhou highlights environmental protection (XINHUA)
To become a 21st Century Maritime Silk Road hub, Fuzhou, capital of southeast China's Fujian Province, is focusing on trade cooperation, traffic connectivity and people-to-people exchanges, starting with the Association of Southeast Asian Nations (ASEAN). Gradually the cooperation and exchanges are expected to extend to Europe, North America, Africa and Oceania.
Statistics by the Fuzhou Municipal Development and Reform Commission show the city's trade with ASEAN, the Middle East and Africa exceeded $6.4 billion by the end of 2013, accounting for 20 percent of Fuzhou's total foreign trade. In this period, ASEAN countries invested $895 million in the city.
Waterway connectivity
Traffic connectivity is essential for promoting the cooperation. With its coastline taking up one third of coastal Fujian Province, Fuzhou has a wealth of ports to develop waterway transportation.
"The initiative to establish Fuzhou as a maritime hub along the 21st Century Maritime Silk Road gives me a clearer direction for the future development of my business," Zheng Ming, General Manager of Fuzhou International Container Terminal, the largest container shipping contractor in Fuzhou's Jiangyin Port, told Beijing Review. "We will put more ships on Southeast Asian and African routes."
Growing business on these routes has bolstered Zheng's confidence. As of October, shipments on Southeast Asian routes had increased 60 percent year on year, the most prominent increment in the company's business. "I'm confident routes to countries along the [21st Century] Maritime Silk Road will be lucrative," Zheng added.
On October 31, the Jiangyin Port was connected with China's railway network by a branch of the high-speed Fuzhou-Xiamen Railway, marking the beginning of sea-railway combined transportation. With two daily freight trains, the Jiangyin Port can transport 60,000 to 70,000 20-foot equivalent units (TEUs) of containers annually. "This [convenient transportation] will improve access to the port's hinterland, opening up its industries to the vast international market," said Yang Yimin, Mayor of Fuzhou.
Yang is proud of the city's long historical connection with China's ancient Maritime Silk Road. On several occasions, he has drawn attention to the city's historical trades with foreign countries along the route by exhibiting a porcelain pot made during the reign of the Tang Dynasty (618-907). The exquisite relic was excavated from an ancient kiln in Huai'an, a conserved historic site in Fuzhou. Similar porcelain objects have been found in Japan and Southeast Asian countries along the ancient Maritime Silk Road.