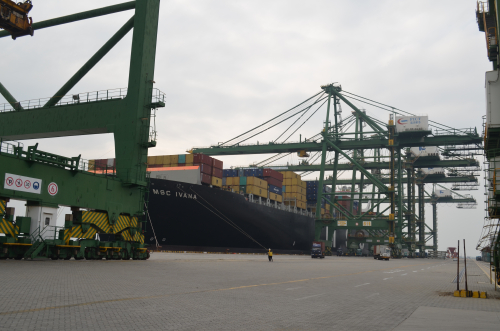 BUSY PORT: Terminals in service at Jiangyin Port in Fuzhou (HOU WEILI)
During his visit to Central Asia and Southeast Asia last year, Chinese President Xi Jinping proposed the initiatives of building a Silk Road Economic Belt and a 21st Century Maritime Silk Road. Fuzhou, capital of southeast China's Fujian Province, is aiming to become a hub along the 21st Century Maritime Silk Road, which will connect Taiwan and ASEAN countries with the vast Chinese mainland. Yang Yimin, Mayor of Fuzhou, describes what the city is doing to realize the goal in an interview with Beijing Review reporter Hou Weili. Excerpts follow:
Beijing Review: What are Fuzhou's legacies from the ancient Maritime Silk Road?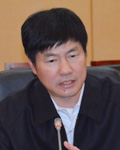 Yang Yimin, Mayor of Fuzhou (HOU WEILI)
Yang Yimin: As one of the origins of the ancient Maritime Silk Road, Fuzhou traces its connection with the road to the Han Dynasty (206B.C.-A.D.220), when the city, then called Dongye, began trading with Southeast Asian countries. The trade expanded to Arab countries during the Tang Dynasty (618-907) when the Gantang Port was established. During the Ming Dynasty (1368-1644), Zheng He (1371-1433) commanded seven expeditions from the Taiping Port in Fuzhou to Southeast and South Asia, the Middle East and East Africa. Fuzhou was one of the most prosperous cities in the Asia-Pacific region during the Qing Dynasty (1644-1911) after it became a treaty port. A total of 17 countries established consulates in Fuzhou at that time.
This history has not only left Fuzhou with precious historical and cultural relics but also made its people open and inclusive. One of the first cities to open to the world, Fuzhou and the international community are interdependent in economy. It now has trade ties with 217 countries and regions, and boasts over 400 foreign-invested businesses and 2,000 Taiwanese-invested ones.
Fuzhou aims to become a maritime hub along the 21st Century Maritime Silk Road. How will this be realized?
Yang: We have an action plan. Future cooperation and exchanges will focus on ASEAN and gradually cover Europe, North America, Africa and Oceania. To promote trade cooperation, traffic connectivity and people-to-people exchanges with these countries and areas, we are working in three ways.
First, Fuzhou will be a transportation hub. There are well-established ports, airports and well-connected railways in the city. The construction of the Fuzhou Changle International Airport is in its second phase. We will continue to support the city's air transportation growth by applying for the fifth freedom traffic right (to allow one country's airlines to land in a second country, pick up passengers from there and then fly to a third) and permitting visa-free transit for 72 hours. To establish Fuzhou as a shipping center connecting ASEAN countries, Taiwan and China's hinterland, we will support the development of the Luoyuanwan and Jiangyin ports. By developing sea-railway combined transportation, the vast interior can be connected with the ports. We will also boost the current combined transportation network and accelerate the construction of high-speed passenger railway corridors linking Fuzhou with Beijing and Xiamen respectively.
Second, Fuzhou will be a trade cooperation center. Covering a vast area, the Jiangyin Port has great potential in developing manufacturing and export-oriented industries. We will encourage the existing foreign-invested businesses to undertake more projects and extend the industrial chain. Moreover, Fuzhou is applying to become a free trade zone (FTZ). When it is approved, there will be more investment-friendly policies and a bigger platform for business growth.