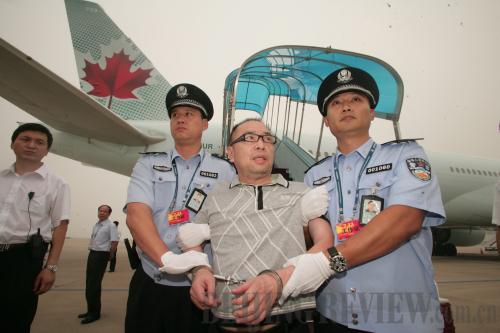 CAUGHT AT LAST: Lai Changxing, a business executive who fled to Canada amid accusations of smuggling and other illicit activities, is taken back to Beijing under police custody on July 23, 2011 (CFP)
Costs of corruption
"Corruption impedes economic sustainability and development, threatens social security and fairness, undermines the rule of law, and erodes government accountability, as well as public trust," reads the Beijing Declaration on Fighting Corruption.
Every year, corruption costs the world more than $2.6 trillion, and increases the costs of doing business by more than 10 percent, estimated the World Bank.
There are no official data on how much corruption costs China every year, nor how much dirty money has been taken out of the country.
Washington-based Global Financial Integrity Group, a non-profit organization that analyses illicit financial flow, estimated that $1.08 trillion was transferred out of China illegally between 2002 and 2011.
Cao Jianming, Procurator General of the Chinese People's Supreme Procuratorate, said in October 2013 that 6,694 suspects of embezzlement and bribery who fled overseas had been captured within the last five years, according to Xinhua News Agency.
Beijing-based China Economic Weekly reported that in January 2010, Li Yubin, Deputy Secretary of the CCDI, said at a news conference that in recent 30 years, 4,000 officials had fled abroad, each taking an average of 100 million yuan ($16.1 million) with them.
Yang Xiuzhu, former Vice Mayor of Wenzhou, east China's Zhejiang Province, oversaw construction projects in the prosperous city in the 1990s. During that time, she raked in enough money to buy a five-story building worth $5 million in midtown Manhattan in 1996. She was found to have embezzled a total of more than 253.2 million yuan ($41.26 million), according to China Daily.
In 2003, she escaped to the United States via Singapore when her brother was investigated for corruption. She was arrested in the Netherlands in 2005 after Interpol issued an international arrest warrant against her at the request of China.
In September 2014, procedures to extradite her were started, which is part of the Fox Hunt 2014 operation.
Progress amid difficulties
Ever since corrupt officials began to flee abroad, China has been engaged in efforts to bring them back to justice by negotiating mutual legal assistance and extradition treaties with foreign countries.
So far, China has concluded 39 extradition treaties and 52 criminal judicial assistance treaties with other countries, of which 29 extradition treaties and 46 criminal judicial assistance treaties are already in force, Xu said.
China also joined multilateral treaties such as the UN Convention Against Corruption, which the country ratified in 2005.
Due to a lack of understanding of China's legal system, countries like the United States and Canada were "passive" when it came to signing extradition treaties with China, Xu said.
U.S. laws state that only through a treaty can two countries cooperate on extradition. Even the UN Convention Against Corruption cannot serve as the legal basis for extradition. At present, the United States seems not to be ready for such a treaty, Xu said.
In absence of any extradition treaty, China has to resort to alternative measures such as repatriation or suing suspects in foreign courts.
In 2004, Washington repatriated Yu Zhendong, a bank official suspected of embezzling hundreds of millions of U.S. dollars, reported Xinhua.
In 2011, a court in Queensland, Australia, sentenced Li Jixiang, former Manager of Nanhai Zhiye, a state-owned real estate company, to 26 years in prison for abuses of power, accepting bribes and misappropriating public funds. He had illegally transferred 40 million yuan ($6.5 million) abroad, and more than 30 million yuan ($4.8 million) had been recovered, said Guangdong Provincial People's Procuratorate.
Since many fugitives fled to North America using counterfeit identity documents, China is able to appeal to authorities on the grounds that the fugitives are illegal immigrants, Huang Feng, Director of the Institute for International Criminal Law at Beijing Normal University, told Global Times newspaper.
Both methods require lots of evidence the Chinese Government would find very difficult to collect, because the suspects have already covered their tracks in most cases. The complicated process of collecting evidence slows down legal proceedings, so it has sometimes taken more than a decade to finalize the repatriation process.
The repatriation of smuggler Lai Changxing from Canada back to China took 12 years.
The newly established ACT-NET is expected to strengthen information sharing and judicial cooperation in the Asia-Pacific region, and make it easier for China to net fugitives overseas.
Zhuang Shuide, a professor with Peking University, said that ACT-NET will enable countries to offer assistance in the investigation and tracking down of suspects. All China has to do is to provide a list of their names.
Email us at: wanghairong@bjreview.com