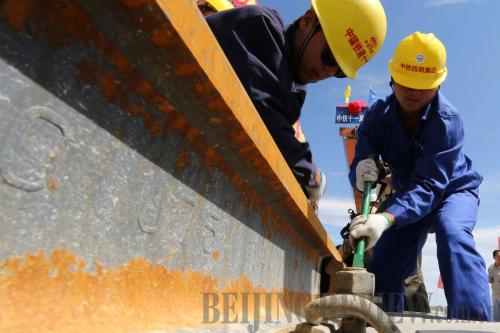 PAVING THE WAY: Workers repair railway tracks of the privately invested Hongliuhe-Naomaohu-Santanghu Railway in northwest China's Xinjiang Uygur Autonomous Region (CFP)
Breaking monopolies, creating equal investment opportunities and easing access to investment—all of these and more are included in China's new guidelines on reforming investment and financing regimes and encouraging private investment in key industries, which were released by the State Council on November 26.
Li Pumin, a spokesman for the National Development and Reform Commission (NDRC), said at a recent press conference that in order to accelerate economic restructuring and ensure sound and sustainable economic growth, the NDRC, in accordance with the arrangements of the State Council, China's cabinet, and through cooperation with other ministries, has selected ecological and environmental protection, agriculture, water projects, municipal infrastructure, transport, energy, telecommunications and public services as key industrial areas likely to attract private investment.
According to Li, the set of guidelines, composed of 39 items organized into 11 sections, focus on establishing market-oriented investment and operational regimes for projects in the seven areas. "These measures will effectively ease market access and point out how private investment can interact positively with key industries," he said.
Li added that the guidelines also propose setting up and improving a public-private partnership (PPP), with the aim of giving full play to the government's role in guiding investment and innovating financing channels.
Opportunities
The guidelines emphasize the creation of equal investment opportunities for private investors in previously state-monopolized industries such as power and energy.
"For instance, the guidelines allow the introduction of private investment in nuclear power projects and encourages private companies to enter nuclear power equipment research, development and services," said Ou Hong, who sits on the counsel of the Department of Fixed Assets Investment of the NDRC.
Ou said that the government has, in recent years, issued a series of policies that encourage private investment. The new guidelines come into play with these policies, showing the government's resolution and confidence in leveraging the huge non-state funds.
According to him, the guidelines apply uniform market access rules to all investors and aim at creating equal investment opportunities. Greater attention has also been given to innovating investment regimes to establish more entry-and-exit channels for private investors. Government input will ideally play a key role in stimulating private investment. The guidelines also vow to innovate and provide better financing services for private investors.
"To ensure steady growth of investment in infrastructure projects, China must effectively address the current embarrassing situation of local governments lacking adequate financing channels but private investors are not enthusiastic about participating in infrastructure projects," said Li Xuesong, Deputy Director of the Institute of Quantitative and Technical Economics of the Chinese Academy of Social Sciences. "The government must also accelerate the reform of monopoly industries, break industrial barriers, allow access to private investors and raise the investment returns of infrastructure projects," he said.