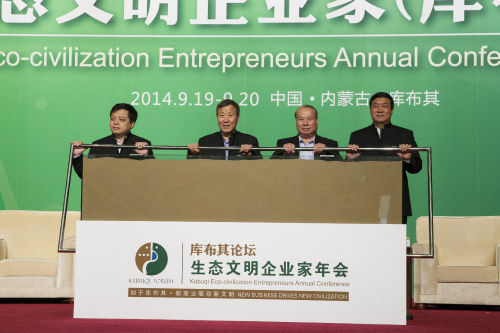 FRESH ENTREPRENEURIAL PASTURES: Wang Wenbiao (first right) at the opening ceremony of the Kubuqi Eco-Civilization Entrepreneurs Annual Conference held on September 19-20 (ZOU YI)
Wang Wenbiao, Chairman of the Inner Mongolia-based Elion Resources Group, has devoted himself to desert control and the ecological economy for more than 20 years. At the Kubuqi Eco-Civilization Entrepreneurs Annual Conference 2014 held in Ordos, Inner Mongolia Autonomous Region, Wang shared his views on "ecological business" with Beijing Review's special correspondent You Shanshan. Excerpts of the interview follow:
Beijing Review: What do you think is most important in desert control?
Wang Wenbiao: The desert is often called "the sea of death" and "the barren land." To bring life to a place without life, technologies are critical, so we must boost technological innovation.
After years of efforts, the Hobq Desert has been changed from a barren land without trees and grass into an oasis. Currently, there are more than 1,000 varieties of grasses, 200 varieties of trees and dozens of animal species living here. During this process, we mainly relied on technological innovation.
Through research, we have found that by growing liquorice for two or three years, we can change a piece of desert into soil. Moreover, we have invented a kind of tree planting method, which consumes little water and takes only a few seconds.
During the process of desert control in Hobq, Elion Resources Group has gained huge profits and facilitated the improvement of people's livelihood in nearby areas. You once concluded this pattern as "balanced development driven by ecology, economy and people's wellbeing." Can you further expound on this pattern?
Over the past three decades since the policy of reform and opening up was initiated, China has realized high-speed growth and created huge material wealth. However, it seems that we have encountered a paradox: We develop the economy in order to improve people's wellbeing, but economic growth has meant we have lost the basic conditions of survival—clean water and air have become luxuries in our times.
We are a company, so if we are not profitable, we cannot sustain our public services; however, if we consider protecting the ecological environment as a business, we can sustain the process. Now, we are following such a pattern in the Hobq Desert. We first restore the ecosystem in the desert, and during the process of restoration, we develop the ecological economy through technological innovation. For example, we have developed projects involving solar energy, wind power and biomass energy, as well as traditional Chinese medicine and desert sightseeing. While improving the ecological environment, our company has also tried to improve local people's quality of life. Each year, a farmer in the Hobq Desert can earn about 10,000 yuan ($1,630) from working on ecological projects.
China is now in a critical period of economic transformation. Some industries have excessive production capacity, so large amounts of private capital have inadequate channels for investment. Seeking investment opportunities from the improvement of the ecological environment may be an important strategy for the transformation of private enterprises.
I think the ecological economy will constitute the fourth generation of the new economy, following the Internet economy, and it may be an important engine for future economic development. Combining business with the improvement of ecosystems and seeking a development model for the ecological economy will serve as a major opportunity for Chinese companies.
The Kubuqi Eco-Civilization Entrepreneurs Annual Conference 2014 is jointly organized by eight renowned Chinese private entrepreneurs. It is the first time in China that so many private entrepreneurs have been willing to assume responsibility in ecological construction. You are one of the sponsors of the conference. How did you come up with the idea of organizing such a conference, and what are the aims of the discussion?
This conference is organized by private entrepreneurs voluntarily for three purposes. First, our many years of experience in desert control in Hobq tells us that promoting improvements in the ecosystem with business incentives will definitely prove sustainable and highly efficient, and such experience should be shared among a greater number of Chinese entrepreneurs. Second, China's future strategy is to develop a green economy that is sustainable, and this will represent an important business opportunity. I hope private entrepreneurs can discuss how to exploit this opportunity. Third, this is also a kind of social responsibility for a company. I think entrepreneurs are responsible for improving the ecological state of affairs. Since we can also make money from improving the ecosystem, why don't we do that? I hope that through this conference, we can encourage more entrepreneurs.
 Email us at: yushujun@bjreview.com