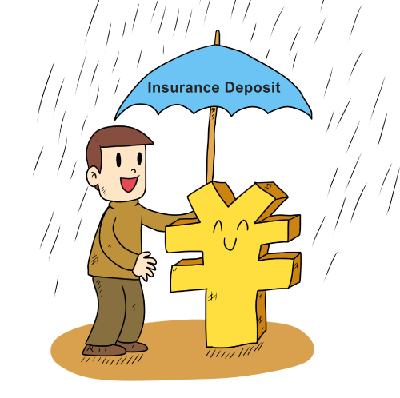 (CFP)
Fair competition
The central bank said that the deposit insurance program will cover all deposit-taking institutions, including commercial banks, rural cooperative banks and rural credit unions.
The biggest beneficiary of the introduction of deposit insurance would be small and medium-sized banks, said Dong Dengxin, a senior financial and securities researcher from Wuhan University of Science and Technology in central China's Hubei Province.
Guo Tianyong, Director of the Research Center of the Chinese Banking Industry at the Central University of Finance and Economics in Beijing, said that deposit insurance will be a major boon for smaller banks, as it removes an implicit government guarantee behind China's state-owned banks and offers all-round coverage to all sorts of banks in the country.
"The program will also significantly raise the credit and competitiveness of small and medium-sized banks, rather than causing deposits to flow from smaller financial institutions to large ones," Guo noted. "Thus, it will help promote a fair environment for all financial institutions."
Wen Bin, a senior researcher with the China Minsheng Banking Corp., agreed with Guo.
"As the number of private banks continues to grow, the deposit insurance program will increase the public's trust in them and facilitate fair competition in a more diversified banking sector," Wen said.
Zhu Genzhou, President of the Guangzhou-based China Capital Planner Research Institute in south China's Guangdong Province, said that after more than 20 years of deliberation, releasing the draft rule on the deposit insurance program represents a momentous step for China.
"The scheme will break up the monopoly of state-owned banks by creating a level playing field for banks of different sizes and with different ownership structures. Depositors now should have more faith in private banks," Zhu said.
"Also, now that the government doesn't have to offer implicit guarantees to banks, it can intensify supervision over their operational risks," Zhu said. "In the future, scrutiny over the banking sector will be stricter and more detailed."
Wei Jianing, a senior research fellow with the Development Research Center of the State Council, China's cabinet, said that there are two symbolic financial reform measures this year—local government bonds and the deposit insurance program.
Wei stressed that deposit insurance can also help reduce financing costs for small and micro businesses.
China's banking sector is dominated by large state-owned lenders, and their favored clients usually don't generally include small and micro businesses.
"Although bank loans have been surging in China, small and micro businesses still have difficulty finding funding. The most effective way to solve that problem would be to create small and medium-sized banks that are on par with large-sized state-owned banks so that the former can offer tailored services to small and micro businesses. Developing small and medium-sized banks requires a deposit insurance program to serve as a guarantee for them. Otherwise, they can hardly be expected to be able to compete with large rivals," Wei said.
"State finance and the central bank should also contribute to the deposit insurance fund so that the scheme won't add to the burden of commercial banks," Wei suggested. 
Email us at: zhouxiaoyan@bjreview.com