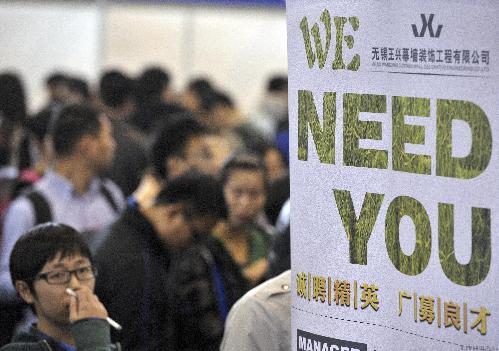 HELP WANTED: A job fair in Nanjing, Jiangsu Province, attracts college graduates. A well-educated and skillful work force is needed to improve the human capital of China (AN XIN)
Amidst an aging population and a changing growth model, China is looking to human capital rather than labor to fuel its economic growth.
This year's Central Economic Work Conference held from December 9 to 11 decided that "economic growth should rely more on human capital and technological progress." Experts think this indicates that the Chinese Government will invest more time and resources into improving the quality of the country's human capital, particularly in the education sector and the labor market.
As discussed at the conference, China's biggest comparative advantage used to be a cheap labor force, which made it easy for advanced foreign technologies and management experience to transform into productivity soon after being introduced into China. Now, with an aging population, China has a smaller surplus rural labor force, so it makes sense that the country should shift its growth model, emphasizing human capital and technological progress, as well as turning innovation into a new engine that drives the country's development.
Disappearing dividend
According to a report of Economic Information Daily, studies of experts in demography and labor economics indicate the aging population and the disappearance of that demographic dividend are the inevitable outcome of economic and social development. Demographic changes in China have happened in three stages: The fertility rate falls, the working-age population's growth rate drops to zero and the existing population ages.
The accumulation and vast reserves of China's human resources have been crucial to high-speed growth in the past 30 years. The country, nicknamed "workshop of the world," has long been backed by long-term abundant labor supplies. However, in the face of a demographic dividend, the country is also likely to lose such an advantage in the next few years.
"In China, a labor shortage was first detected in 2004, and the working-age population decreased for the first time in 2012. The interval between these two turning points is very short. In the future, China's aging population track will be similar to those in developed countries, but it will progress much more quickly," said Cai Fang, Vice President of the Chinese Academy of Social Sciences (CASS), adding that although this factor will not cause economic stagnation, it is still likely to slow down the economic growth.
As its vast supplies of labor no longer exist, China's labor cost keeps increasing, making it unlikely that the labor-extensive and industrial-driven economic growth model continue. According to the Economic Operation and Forecast Early Warning System for China Light Industry, the average monthly wages of workers in southeast China's coastal areas equal about $500, while those in Indonesia and Viet Nam are only $300 and $250 respectively. China's low-end manufacturing industries are becoming less competitive in the international market.
In the meantime, the structure of the working population reflects the deficiency of China's human capital. Yin Xingmin, a professor at the School of Economics of Fudan University, said the ratio of research and development (R&D) personnel among 1 million people can indicate the contribution of human capital to the innovation. A high ratio and its rapid growth can reflect a growing human capital density in a country. For instance, Finland is a country with a population of only 5 million, but among every million people in this country, 7,700 are engaged in R&D, the highest in the world. In China, only 1,071 out of a million are engaged in R&D, indicating that China has far from enough input in human resources for innovation.
Hu Chi, a researcher with the Research Center of State-owned Assets Supervision and Administration Commission of the State Council, said a strong solution for China involves strengthening human capital.
"The core of our economic transition involves transforming the economic growth model and changing the labor-driven economic growth to a human capital-driven one," said Hu when interviewed by Economic Information Daily.