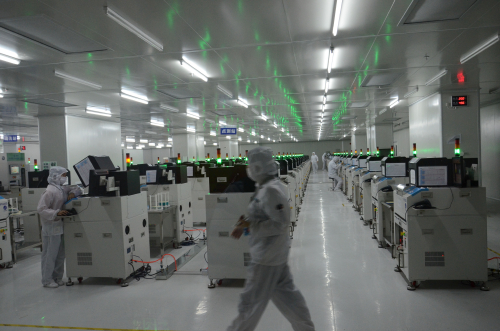 Employees work at the Hualei Optoelectronic Plant in an industrial park in Chenzhou, central China's Hunan Province on May 19(CFP)
The 'New Normal'
The Chinese economy has entered the "new normal," characterized by a shift from breakneck economic expansion to moderateto- high-speed growth, continuous improvement in the economic structure and moving away from factor- and investment-driven growth to innovation-driven growth.
China's GDP growth slowed to 7.3 percent in the third quarter, the weakest since the global financial crisis in 2008. That's a further slowdown from the 7.4 percent in the first quarter and 7.5 percent in the second quarter of the year.
During this year's Central Economic Work Conference held December 9 to 11, China's top leadership said the country's macroeconomic policies should be adapted to the new normal and the growth rate will be kept within an acceptable range next year.
In 2014, central authorities adopted several measures to put the economy on a more stable footing. To further encourage financial institutions to lend to agriculture-related sectors and small and micro businesses, the central bank carried out targeted reduction of reserve requirement ratios twice this year, in April and in June, respectively.
On November 22, the country's central bank cut the benchmark one-year lending rate by 0.4 percentage points to 5.6 percent and the one-year deposit rate by 0.25 percentage points to 2.75 percent. The rate cut is a major boon for the real economy as it helps bring actual interest rates back to a proper level and lower the financing costs facing businesses.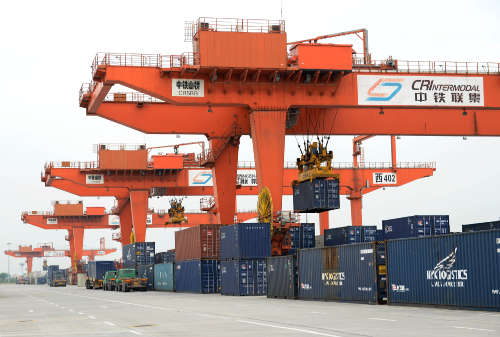 Bridge cranes lift cargo containers in Xi'an International Trade and Logistics Park, the starting point of the Chang'an transportation train on May 12, which has become the most welcomed "envoy for economic and trade exchanges" on the Silk Road Economic Belt (LI YIBO)
Silk Road Fund
Chinese President Xi Jinping announced on November 8 that China would contribute $40 billion to set up a Silk Road infrastructure fund to break the bottleneck in Asian connectivity by building a financing platform.
The new Silk Road Fund will be used to provide investment and financing support to carry out infrastructure, resources, industrial cooperation, financial cooperation and other projects related to connectivity for countries along the "One Belt and One Road," Xi said, referring to China's Silk Road Economic Belt and the 21st Century Maritime Silk Road initiatives.
The two initiatives aim at enhancing connectivity and trade ties with Central Asia and South Asia by building roads, railways, ports and airports across the two land masses.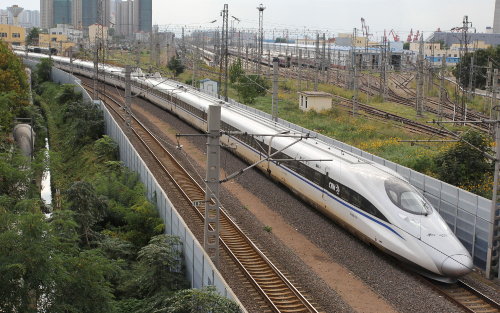 A 380AL high-speed train made by China CSR Corp. Ltd. runs along the Jiaozhou-Jinan Railway in east China's Shandong Province on September 13 (HUANG JIEXIAN)
Train Exports
After making great progress domestically, Chinese railway transportation equipment makers have made an aggressive foray into the global market in 2014.
In November, transport authorities in Massachusetts awarded China CNR Corp. Ltd. a contract to supply 284 trains for the city of Boston's subway system, the first time that a Chinese railway transportation equipment maker has won a bid in the United States.
To avoid cutthroat competition among Chinese companies in overseas bidding, the two major rail car makers China CNR Corp. Ltd. and China CSR Corp. Ltd. announced in November that they would undergo a merger to compete in the global arena.
On December 15, China CSR Corp. Ltd. announced it had secured a contract worth 1.7 billion yuan ($278 million) to supply locomotives and rail cars to Argentina.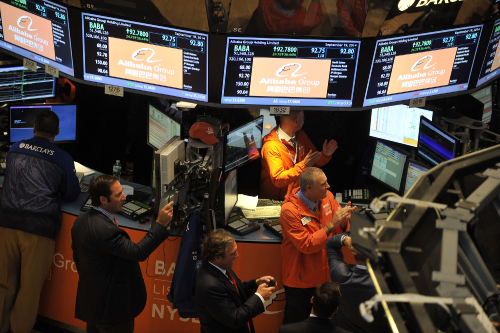 Traders applaud the listing of Alibaba Group at the New York Stock Exchange on September 19 (WANG LEI)
Ballooning Internet Economy
The Internet is rebuilding the nation with powerful companies changing the way Chinese people shop, communicate with others and even manage their money.
Alibaba Group Holding Ltd., the Chinese e-commerce behemoth that rivals Amazon and eBay, completed its initial public offering (IPO) on the New York Stock Exchange on September 19. Alibaba raised $21.8 billion through the sale, the largest listing in U.S. history. The offering price rose 10 times and investors snapped up shares of Alibaba's debut, pushing the company to a valuation of more than $231 billion, bigger than Facebook or Amazon and eBay combined.
The year of 2014 witnessed increasingly fierce competition among BAT, the acronym for China's three Internet giants—leading search engine Baidu, e-commerce group Alibaba and messaging software provider Tencent. All companies invested heavily in O2O (online to offline) services by backing up price wars and carrying out mergers and acquisitions to promising companies. The three are also waging a fierce war for market shares in China's emerging mobile payment industry.