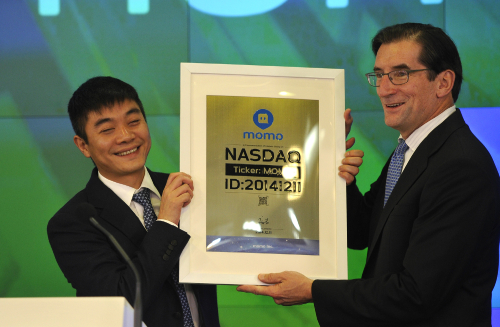 SHINING MOMENT: Tang Yan (left), Co-founder and CEO of Momo Inc., and Robert Greifeld, CEO of Nasdaq-OMX Stock Market, Inc. at the listing ceremony (WANG LEI)
Tang Yan, a 35-year-old man who only just began his stint in entrepreneurship in 2011, surprised the corporate world when his firm Momo, a Chinese social media service provider, went public on the NASDAQ on December 11.
The location-based application that allows users to send text, photos or videos to people nearby priced 16 million American depositary shares at $13.5 per share and opened at $14.25 a share, raising $216 million on its first day of trading on the NASDAQ. Far from the end of the story, Tang said he plans to open Momo offices in the United States to expand business.
Allowing users to establish personal social networks by searching for adjacent strangers based on people's current locations via their mobile devices, Momo had attracted 180.3 million users by September 30, 2014.
"Our efforts in the past years have paid off, and we take pride in Momo's listing in the United States," said Tang, who formerly served as the editor in chief of NetEase, one of China's major Web portals.
In the social media sector that has been dominated by Tencent's friend-based instant messaging app WeChat, the rise of Momo's popularity is considered a great success. Nicknamed as "the best hook-up app," Momo ranked third, attracting 64.3 million active users in the third quarter of 2014, second only to WeChat and QQ, according to Analysys International, a Beijing-based market research firm.
Tang believed clear positioning makes the foundation of Momo's success. "Many social networking platforms are based on real social relations, while Momo helps people create new contacts entirely online," said Tang, who hopes to realize long-term viability after getting listed.
However, after the record high of $17.48 per share registered on its first day of trading, Momo began to lose steam, and for the first time, dropped below its offering price to $13.29 per share on December 17.
Uncertainties
Just a day ahead of Momo's initial public offering (IPO), NetEase issued a statement accusing Tang of dereliction of duty and misuse of company resources to benefit an advertising firm where his wife was working, and violating his contracts with NetEase by utilizing the information and technological resources provided by the website to establish his own company during his employment at NetEase.
Luo Lan, an industry analyst with Analysys International, noted that NetEase's conduct may affect investors' confidence in the emerging star, because the personal and professional ethics and leadership styles of company founders are major concerns in IPOs.
Aside from that, a transformation is urgently needed. In April 2012, Mike Sui, a mixed-race comedian, first posted his 12 Beijingers video which attracted 5.17 million hits, in which Momo was referred to as "a magical tool to get laid." "The nickname has done more harm than good to Momo. For one thing, it fueled a dramatic growth of users. For another, female users may face moral pressures," said Tang, who has spent millions of dollars to reverse the image of Momo as a one-night-stand app.